Three Aerotek Leaders Recognized on SIA Global Power 150 – Women in Staffing List
Aerotek announced today that three members of Aerotek's executive team were recognized by Staffing Industry Analysts (SIA) as part of the Global Power 150 – Women in Staffing list.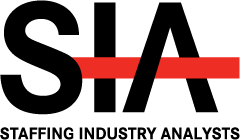 Aerotek, a leading provider of recruiting and staffing services, announced today that three members of Aerotek's executive team were recognized by Staffing Industry Analysts (SIA) as part of the Global Power 150 – Women in Staffing list.
Tanya Axenson, vice president of Human Resources for Aerotek and the Allegis Group; Dana Baughns, general counsel and secretary; and Stacey Jenkins, vice president of Strategic Delivery Solutions, have all been named to the annual list. The recognition from SIA spotlights women who stand out as leaders and influencers in the industry, and whose accomplishments and contributions are redefining the evolution of work.
Axenson oversees all aspects of global human resources while spearheading the development and strategic direction of Aerotek's human resources team which supports more than 8,000 internal employees and 300,000 contract employees. A seasoned and respected HR executive, Axenson's leadership philosophy focuses on the importance of inclusion, engagement and a commitment to helping individuals realize their professional and personal goals — all of which are deeply embedded in the Aerotek and Allegis Group culture.
Applying her deep employment law expertise, Baughns has extensive complex litigation experience and represents Aerotek in lawsuits, claims and government investigations. In addition, she helps provide counsel to clients on a variety of labor laws, government contracting obligations, enterprise risk mitigation and more. Baughns is an effective business partner with a passion and proven track record of developing solutions that successfully balance business goals, client objectives and legal compliance.
A staffing pioneer, Jenkins has forged a path within the organization to disrupt workforce solutions. She is responsible for supporting Aerotek's most complex customer base by providing unique and strategic delivery models to meet clients' business objectives. With more than 20 years serving Aerotek in both financial and operational leadership roles, Stacey's expertise, visionary mindset and tenacity to inspire and develop innovative solutions makes her a valuable partner and respected leader in the industry.
"Tanya, Dana and Stacey have each played a unique but pivotal role in the growth and strategic direction of Aerotek. They are inspirational leaders and trailblazers in their fields," said Todd Mohr, Aerotek President. "We are proud to see them recognized for their achievements, and it is an honor to have them as part of our team."
To learn more about the SIA Global Power 100 – Women in Staffing and to view the full list of recipients, visit: SIA 150 women website. For more information about Aerotek, visit Aerotek.com.
About Aerotek
Our people are everything. For more than 30 years, Aerotek® Inc. has distinguished itself as a leader in recruiting and staffing services by having a deep understanding of the intersection of talent and business. As a strategic partner to more than 18,000 clients and 300,000 contract employees every year, Aerotek's people-focused approach yields competitive advantage for its clients and rewarding careers for its contract employees. Headquartered in Hanover, Md., Aerotek operates a network of over 250 non-franchised offices with more than 8,000 internal employees dedicated to serving our customers. Aerotek is an operating company of Allegis Group, a global talent solutions provider. To learn more, visit Aerotek.com.
About Staffing Industry Analysts (SIA)
Founded in 1989, SIA is the global advisor on staffing and workforce solutions. Their proprietary research covers all categories of employed and non-employed work including temporary staffing, independent contracting and other types of contingent labor. SIA's independent and objective analysis provides insights into the services and suppliers operating in the workforce solutions ecosystem including staffing firms, managed service providers, recruitment process outsourcers, payrolling/compliance firms and talent acquisition technology specialists such as vendor management systems, online staffing platforms, crowdsourcing and online work services. They also provide training and accreditation with our unique Certified Contingent Workforce Professional (CCWP) program.
Known for their award-winning content, data, support tools, publications, executive conferences and events, they help both suppliers and buyers of workforce solutions make better-informed decisions that improve business results and minimize risk. As a division of the international business media company, Crain Communications Inc., SIA is headquartered in Mountain View, California, with offices in London, England.