As Economy Reopens, Employers Face Unprecedented Labor Shortage

Demand for goods is skyrocketing as the U.S. economy reopens from the pandemic. But employers in the skilled trades and light industrial sectors are having an increasingly difficult time finding interested workers to fill record numbers of open jobs.
The labor shortage is contributing to supply-chain bottlenecks and higher prices across the board, and the pressure to find skilled talent has never been higher.
This three-part series will examine the state of the market, how companies are responding and the difficult decisions they are being forced to make to meet rising demand.
A state of the market
Job openings in May soared to a record 9.2 million, up from about 7.1 million openings as recently as January, according to the U.S. Department of Labor's Job Openings and Labor Turnover Survey (JOLTS). The survey has never shown more openings since the Department of Labor began keeping track in 2000.
The report of late has shown a mismatch in labor supply and demand in industries like manufacturing. Manufacturing hires have ticked down in the months since March while job openings in the industry have increased to record highs of more than 800,000.
There were twice as many manufacturing job openings in May 2021 as there were in February 2020, the month before the pandemic reared its head in America. In fact, since April there have been more open positions at American manufacturing companies than at any point this century, according to the U.S. Bureau of Labor Statistics.
Those findings line up with what Anthony Sanzone, Aerotek director of strategic sales, is seeing in the marketplace.
"Everybody needs something – everybody's looking to hire, for the most part," explains Sanzone.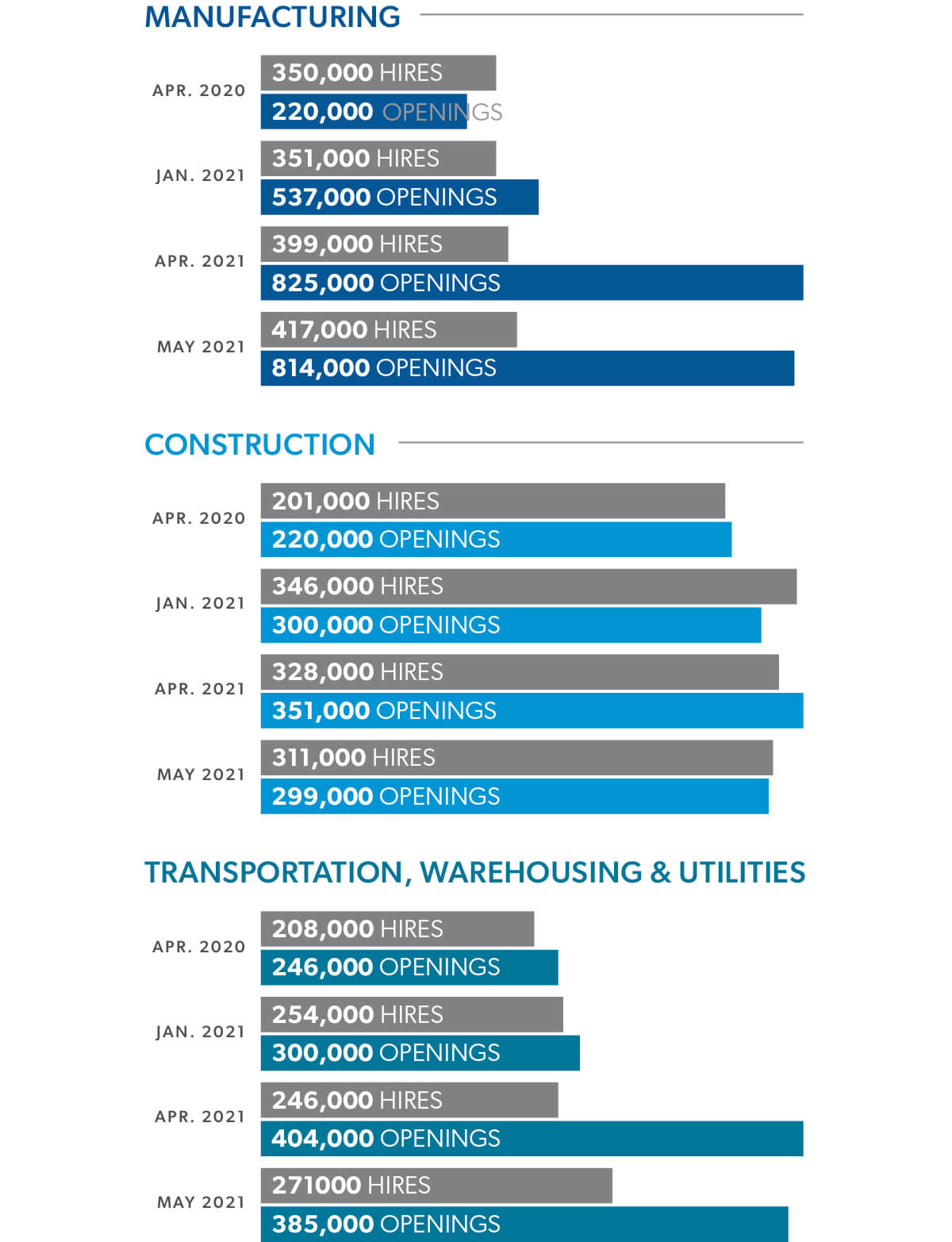 Sources: https://www.bls.gov/news.release/jolts.nr0.htm

Hires (https://www.bls.gov/news.release/jolts.t02.htm)

Job Openings (https://www.bls.gov/news.release/jolts.t01.htm)
Finding Labor
Finding labor has never been easy in the skilled trades. The skills gap has been a constant threat to the manufacturing industry of late. Mixed with the threat of baby boomers retiring, urgency has been high for the past few years to hire and develop talent. But the pandemic has exacerbated that issue.
Firms surveyed in a May study by Deloitte and The Manufacturing Institutesaid finding the right talent is particularly hard now -- 36% harder now than it was in 2018. While the skills gap has persisted in its role contributing to the labor shortage, there is a considerable contingent of the labor force that is sitting out in the wake of the pandemic.
The labor force participation rate has remained nearly 2 percentage points lower than it was in February 2020, a month before the start of the pandemic, according to the U.S. Department of Labor. The labor force participation in May was 61.6 percent, 1.7 percentage points lower than in February 2020. The employment-population ratio, at 58.0 percent, was also 3.1 percentage points below its February 2020 level.
Child care issues, ongoing fears about the pandemic and the lure of enhanced unemployment benefits are among the reasons experts believe people are sitting out.
The Census Household Pulse survey in March found 6.3 million people were not working because they had to take care of their children at home, and 2.1 million more people were at home caring for an older person. Child-care programs are contending with unprecedented staffing shortages, leading to fewer spots and long waiting lists that are keeping would-be workers home.
Meanwhile, the pace of Baby Boomer retirements has accelerated in the past year. A report by the New School for Social Research Retirement Equity Lab showed at least 1.7 million workers retired early because of the pandemic crisis.
A survey of over 30,000 workers conducted by Microsoft revealed that 41% of the global workforce is likely to consider leaving their current employer within the next year, with 46% planning to make a major pivot or career transition. In construction, manufacturing and the transportation, warehousing, and utilities industries, more people have quit in the first five months of 2021 than any year in the past decade, according to JOLTS data.
To get people back to work, 26 states have taken the debated step of acting to end early the enhanced unemployment benefits that have been offered by the federal government. The U.S. Chamber of Commerce estimated the $300 a week supplement included in enhanced benefits results in approximately one in four recipients taking home more in unemployment than they earned working.
"From a worker's standpoint, it is difficult to entice them off the bench," said Patrick Lamon, director of vertical sales for Aerotek. "And even if we get everybody off the bench, the demand for this kind of light industrial worker in manufacturing and distribution industries is off the charts."
What's next
Ending the worker shortage will require more than one solution, Sanzone explains.
"I think that a lot of people have started to re-engage since some states started ending enhanced unemployment benefits and we are going to see an influx of applications," explains Sanzone. "But I don't think that fixes everything."
In the short-term, employers are raising wages and providing sign-on bonuses to ensure they don't lose prospects who are entertaining multiple offers.
Raising wages is easier to do in industries where there are higher margins and where companies are positioned financially to absorb increased cost, explains Dan Stiles, director of strategic sales for Aerotek. But in industries with thinner margins where existing contracts assume certain payroll costs, it is a tougher pill to swallow. The pinch of new hires demanding higher wages and existing employees demanding not to be outearned by the new guy has resulted in difficult decisions for employers, Stiles said.
"Some customers have been slow to the game of increasing wages because they're concerned of the longer-term impact that could have for all of the employees in their company," Stiles explained.
More and more, employers are finding it's not just about the money. To lure new talent, some employers are also working to streamline the new hire onboarding process by removing some barriers like stringent drug test requirements. To hold onto existing talent into the future, employers are reconsidering their employee value proposition.
"The money component is the easy lever," Sanzone said. "But what are you doing as a company to have an attractive job and an attractive workplace? The baseline has been moved for everybody."
Finding a way to provide a better work-life balance by offering more options with scheduling and engaging with employees more to gauge their happiness are short-term measures some companies have taken, Sanzone said.
Making investments to foster inclusive cultures and creating programming to develop employee skills become critical not just for providing talent to the skilled trades and light industrial sectors – but attracting and retaining talent as well, Stiles explained.
"There hasn't been one solution. I think that most people don't know what they're going to do, and they're coming to us because there isn't an exact science or a playbook to what we're dealing with right now," Stiles said. "Our company is the tip of the spear."
----
Stay tuned for the next article in this series that will explore the short-term solutions employers are looking to now to get workers in the door and keep them on payrolls.