December 2022 Market Trends Report

The U.S. economy added 263,000 jobs in November while the unemployment rate was unchanged at 3.7 percent, according to the U.S. Bureau of Labor Statistics (BLS) Employment Situation Summary. Monthly job growth has averaged 392,000 in 2022, compared with 562,000 per month in 2021.
Construction and manufacturing led the way for job growth among industrial sectors in November. The construction industry saw employees on payrolls grow by 20,000 in November, buoyed by growth in nonresidential building (+8,200 jobs) and heavy and civil engineering construction (+5,300 jobs).
Meanwhile, employment in warehousing and storage sector dipped by 13,000 as some consumers feel the pinch of inflation. Employment in the transportation and warehousing industry declined by 15,000 in November and has decreased by 38,000 since July. However, some sectors within the transportation and warehousing industry are still experiencing growth. The air transportation sector saw 4,000 jobs added to payrolls in November and 1,400 jobs were added for support activities for transportation – a sector that includes aircraft mechanics and service technicians, along with laborers and freight, stock and material movers.
Job openings decrease across industrial sectors in latest JOLTS report
The latest Job Opportunities and Labor Turnover Survey (JOLTS) report, which runs a month behind the BLS Employment Situation Summary, showed there were 10.3 million job openings on the last business day of October.
In October, job openings decreased across most industrial sectors specified by BLS including nondurable goods manufacturing (-95,000), construction (-51,000) and transportation, warehousing and utilities (-39,000). The number of job openings increased in durable goods manufacturing (+5,000).
While growth in openings has evened out over the past several months, the number of openings remain elevated compared to pre-pandemic levels in all industrial sectors. Compared to October 2019, there are 51,000 more openings in construction, 350,000 more openings in manufacturing and 132,000 more openings in transportation, warehousing and utilities.
Hires and quits grow, JOLTS report shows
As job openings leveled out, hires ticked up in both manufacturing (+28,000) and transportation, warehousing and utilities (+11,000).
The number of voluntary quits also grew in October in industries including construction (+31,000) and manufacturing (+18,000).
The ratio of job openings to unemployed workers is still 42% higher than its 2019 average of 1.2, and the quits rate is 13% above the pre-pandemic baseline. according to Indeed Hiring Lab.
"Rumors of the labor market's demise have been greatly exaggerated," Indeed Economic Research Director Nick Bunker reported. "The outlook for next year is still hazy with an aggressive Federal Reserve willing to raise unemployment to bring inflation down. But as we head to the end of 2022, the US labor market remains resilient."
Jobs Market Overview
3.7%
November's Overall Unemployment Rate
The unemployment rate stayed at 3.7% in November.
263k
Jobs Added in November
Job growth in November included spikes in industrial sectors including construction and manufacturing.
62.1%
November's Labor Force Participation Rate
The labor force participation rate remains 1.1 percent below its Feb. 2020 level.
Industry Employment Trends
OVERALL ECONOMY
+263k
Monthly Job Change
(+3.3% YoY Difference)
| | | |
| --- | --- | --- |
| Industry | Monthly Job Change | YoY Difference |
| Manufacturing | +14k | +3.4% |
| Automotive | +1.9k | +4.7% |
| Warehouse & Storage | -12.5k | +1.5% |
| Architectural & Engineering | +5.6k | +5.5% |
| Construction | +20k | +3.3% |
| Consumer Services | +69.1k | +4.3% |
Source: Bureau of Labor Statistics, Employment Situation Summary
The Aerotek Take
"While some employers are letting people go and recalibrating their labor force, many more employers are still aggressively looking to hire. Attracting quality talent remains a challenge for employers across industries, and we are committed to helping our clients navigate the muddy waters of the labor market."
Bill Ruff, Vice President of Strategic Sales
Spotlight: Aviation
While many sectors in transportation saw lost employment in the month of November, the air transportation sector saw 4,000 jobs added to payrolls. Another 1,400 jobs were added in the support activities for transportation sector, in which BLS includes aircraft mechanics and service technicians, along with laborers and freight, stock and material movers.
Despite the reappearance of COVID-19 concerns and flu season, the International Air Transport Association (IATA) signaled continued recovery for the air transportation sector as it reported increases in passenger demand and bookings for the month of October. The IATA report showed that air travel's recovery, as measured by revenue passenger kilometers (RPKs), continued in October and, by the end of the month, had returned to 74.2% of 2019 levels. RPKs in October grew by 44.6% compared to October 2021 (year-on-year), and since June have grown globally by an average of 1.7% per month. North American carriers reported a 106.8% traffic rise in October versus the 2021 period.
Amid continued growth, employers in aviation remain looking to hire. Many stories have been written on the pilot shortage that is impacting airlines as 2022 rounds to a close.
Fabrice Pitti, a research director on the Dow Jones data strategy team, points out that in addition to pilots there is a lack of mechanics and other aircraft workers, "who are critical for developing technological advances and upgrades throughout the industry."
"Skilled employees are desperately needed to bring the aerospace supply chain back to pre-pandemic levels," Pitti wrote for Dow Jones on November 22. "An expert in the industry acknowledged the scale of the problem: "During previous industry downturns, around three-quarters of laid-off employees would eventually return to their jobs. This time, only a quarter of staff have come back to the industry, with smaller companies particularly affected.""
A surge in demand has caused many companies to expand their search for experienced mechanics. They're also increasing wages and improving benefits to draw in top talent, according to Aerotek experts.
Many employers looking to hire are also focused on the skills gaps that prevent them from doing so. According to AINonline, some of the country's biggest independent MROs are addressing the ongoing mechanic shortage by starting their own paid airframe and power plant (A&P) apprenticeships.
It will be a priority for employers to ensure new and old employees know how to maintain and operate new technologies that are rolled out to lower costs. According to Southern Utah University (SUU), aviation maintenance technician (AMT) schools can cost anywhere from $8,000 to $30,000 for an associate degree and $20,000 to $80,000 for a bachelor's program. And the cost to train at a non-university AMT school can range from $20,000 to $50,000, according to SUU.
Many employers in turn considering how Upskilling programs can equip their existing workforce with new skills. Education and outreach is critical to creating an environment where employees feel valued and want to stay for the long-term.
If you're an aviation or A&P mechanic looking for your next opportunity, check out our current openings.
By the Numbers: Air Transportation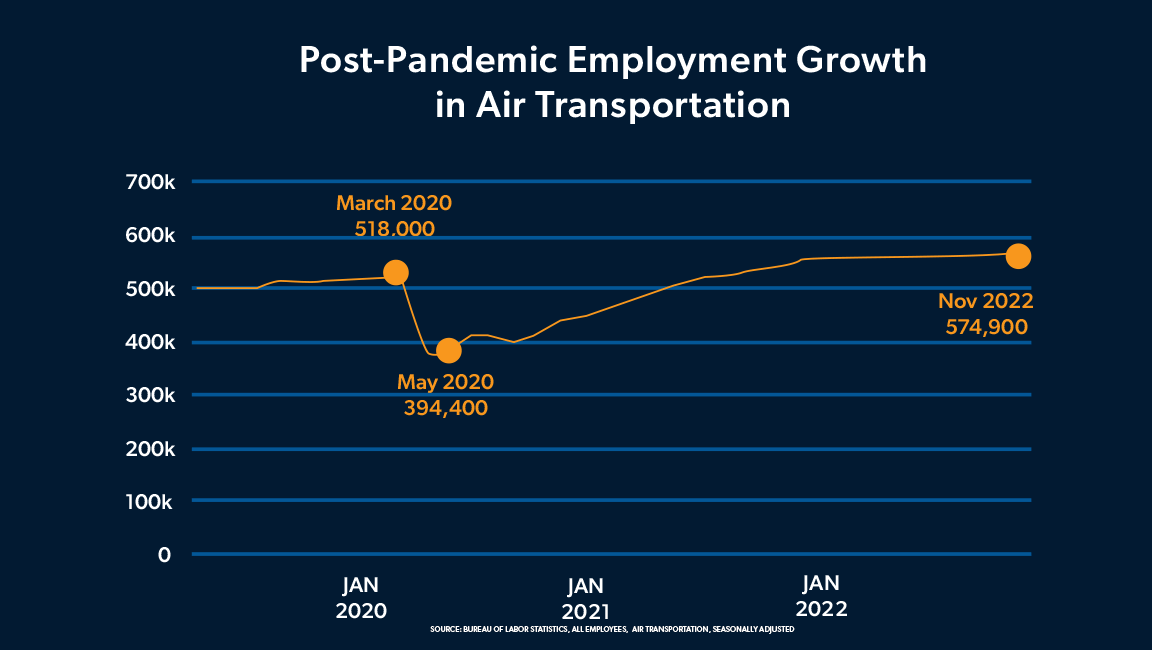 Source: U.S. Bureau of Labor Statistics, All employees, Air Transportation, Seasonally Adjusted
Spotlight: The Aerotek Take
"As the aviation sector continues its rebound, employers are continuing to seek quality talent to fill roles across the board. While some may be focused on short-term supply, it's important for employers to make sure they are bringing in quality talent that will stick around. We are in constant communication with our clients to ensure that the people they are hiring and the strategies they have in place are set up to build a workforce that lasts."
Tony Sanzone, Director of Strategic Sales