February Market Trends Report

The January jobs report beat expectations, with 467,000 jobs added during the peak surge of the COVID-19 Omicron variant. Several industries including Architecture & Engineering and Warehouse reached all-time highs, while others continued to struggle with the impacts of COVID-19.
Still, the labor shortage persists. In January, more than 10 million jobs were available for the seventh straight month. For the sixth consecutive month, more than four million quits were recorded. While some industries surged, others including the Automotive and Construction industries struggled with the impacts of COVID-19.
More than 3.6 million people reported being absent from work because of illness, more than at any prior point in the pandemic. Potential workers per job opening is now at a record low of 1.46. That figure includes part-time workers who want full-time work and those who left the labor force but want to work, along with the unemployed.
The scarcity of workers is providing those looking for jobs with better pay opportunities.
The labor force saw average hourly wages increase of 6.9% year-over-year for production, nonsupervisory employees. That included a 5.3% bump in hourly wages for those workers in Construction, 5.2% for workers in Manufacturing, 9.1% for workers in Warehouse, and 15.2% for workers in Leisure & Hospitality.
January Jobs Market Overview
4.0%
January's Overall Unemployment Rate
January's unemployment rate increased .1 percentage point from December. The unemployment rate remains .5 percentage points from the February 2020 pre pandemic rate of 3.5%
467K
Jobs Added in
January
Leisure, Hospitality, Retail, and Transportation & Warehousing were the key drivers of January's job growth
62.2%
Labor Force Participation Rate (LFPR)
Reaching its highest level since the pandemic started, January's labor force level is 896K people below pre-pandemic participation level
Industry Employment Trends
OVERALL ECONOMY
+467k
Monthly Job Change
(+4.8% YoY Difference)
| | | |
| --- | --- | --- |
| Industry | Monthly Job Change | YoY Difference |
| Manufacturing | +13k | +2.8% |
| Automotive | +4.9k | +8.3% |
| Warehouse & Storage | +13.4k | +22.1% |
| Architectural & Engineering | +8.4k | +4.6% |
| Construction | +5k | +1.5% |
| Consumer Services | +218k | +9.2% |
Source: Bureau of Labor Statistics, Employment Situation Summary
The Aerotek Take
"It continues to be hard to find talent, but companies are beginning to figure out what they need to do to remain competitive in 2022. Across industries Aerotek works with, employers that are offering competitive wages and building attractive value propositions for employees have found it easier to retain their workforces.
By working with an experienced partner like Aerotek to reach talent faster, streamlining and strengthening onboarding processes, the companies we work with are finding a 'best foot forward' that is paying dividends. Similarly, the talent we are connecting to work are finding the best opportunities available by tapping into a broader range of jobs that meet their interests and needs."
Bill Ruff, Vice President of Strategic Sales
Spotlight: Distribution & Logistics
The Logistics Manager Index, a survey of trends and developments in the logistics industry by leading logistics and supply-chain schools, reported a reading of 71.9 in January -- marking the 12th consecutive month with significant expansion in the industry.
Industry members continue to report logjams at ports while inventory levels rise. Employment in Transportation & Warehouse is at an all-time high with 6.3 million employees on nonfarm payrolls, including an all time high of 1.7 million in Warehousing & Storage subgroup, according to the Bureau of Labor Statistics.
Jobs including Warehouse Worker, Forklift Operator, Assembly Operative and Machine Operator all appeared on a January list from Adzuna of job titles that grew the most in demand over 2021.
According to global management consulting firm McKinsey & Company, the growth in e-commerce has driven new demand for supply-chain labor that is likely to remain postpandemic. Additionally, the shift in consumer spending from services toward goods that added supply-chain pressure during the pandemic may also stick. To keep up with demand as e-commerce continues to boom, some estimates say the U.S. may need an additional 1 billion square feet of new industrial space by 2025 to keep up with demand.
Transportation & Warehousing: Average Hourly Earnings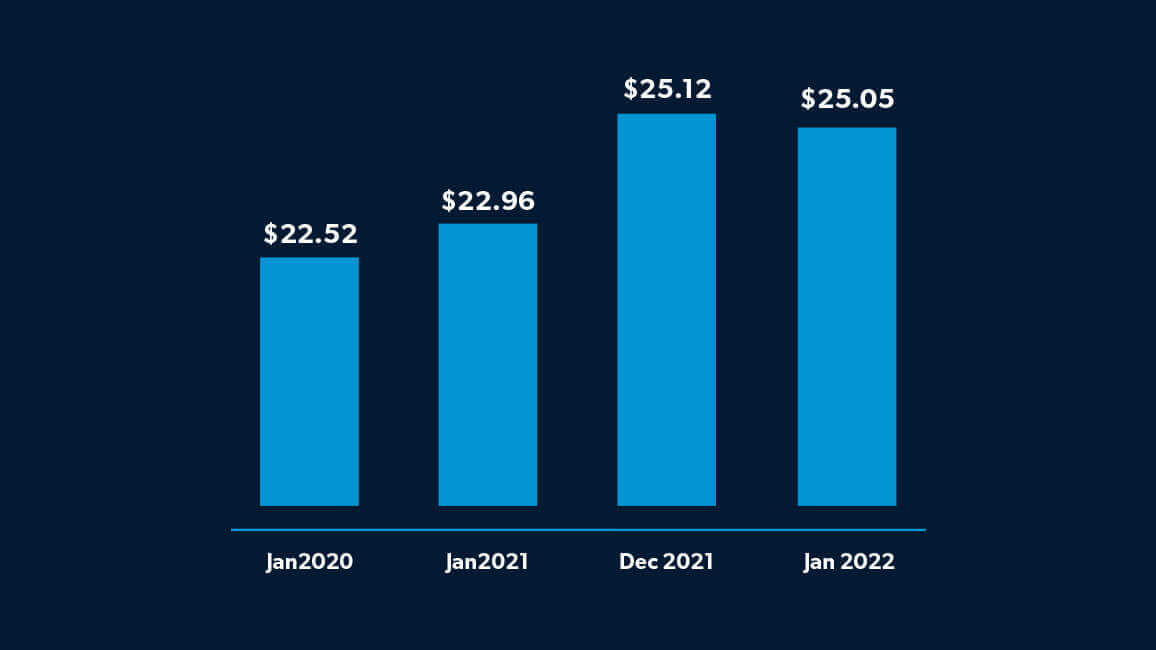 Source: U.S. Bureau of Labor Statistics, Average hourly earnings of production and nonsupervisory employees, Transportation & Warehousing, seasonally adjusted
Transportation, Warehousing, and Utilities: Job Openings and Hires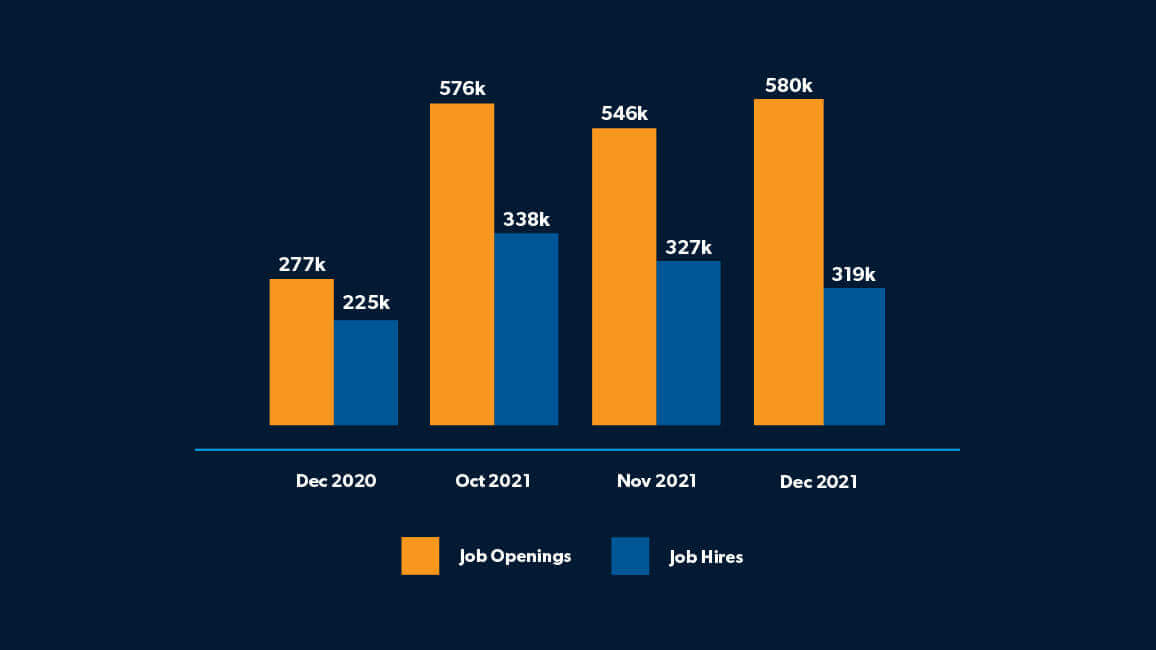 Source: U.S. Bureau of Labor Statistics, Job Openings and Labor Turnover Survey (JOLTS)
Spotlight: The Aerotek Take
"Typically, January is a time for logistics firms to reset following the post-holiday rush. However, employment is at an all-time high and demand is likely to persist throughout 2022. For talent, demand and the overall success of the industry means the time has never been better to enter the job market. Employers will continue to be competing for the best workers, and that competition may only continue to heat up as we get closer to the second half of the year when e-commerce is at its busiest.
For employers, the time is now to address the factors that are contributing to the pressure they may be experiencing from the ongoing labor shortage. That could mean a reexamination of compensation for employees, but also should include a consideration of what they are offering employees in terms of a sense of belonging or opportunities to grow within the company"
Tim Callaghan, Director of Strategic Sales