From Grease Technician to National Recruiter – An Aerotek Success Story

Gabriel Martinez walked into the Aerotek office in Rockford, Illinois, looking for help finding work. Megan Hovestol hired him to work as a grease technician at a local company, but as it turns out, she also ended up adding a new recruiter to our internal workforce. Here's how Gabriel went from contract employee to national recruiter.
A recruiter's dream
Megan is now an account manager, but two years ago, she was busy recruiting for industrial skill sets. "I remember early on realizing that he was one of the friendliest people I'd ever met," recalls Megan. "We placed him with one of our clients, and he did an awesome job right away. He ended up getting hired on as a permanent employee pretty quickly."
Grease technician par excellence
Gabriel picked up the story from there, describing his first Aerotek experience. "I was all set to start a restaurant job when I saw the Aerotek ad. I walked into the Rockford office, and within days Megan had placed me in a starting position at an industrial manufacturer, working as a grease technician."
"The manufacturer made grease mostly for automotive companies, everything from huge automotive companies to small local shops. It's actually a pretty cool manufacturing process, how all the ingredients are brought together, cooked up and then packaged for shipping," Gabriel recounted.
It was at this job Gabriel began perfecting his work habit grounded in learning how things work. "Early in this assignment, the company had me driving a forklift around the warehouse. But I was curious about how the whole process worked, so soon I was involved in the actual making of the grease. I ended working on almost every part of the process, end-to-end — the cooking, the packaging, labeling and shipping. "
"In the 16 months I was with that manufacturer I learned something about myself — I love learning how a business works, and I also love feeling like I'm part of driving a company forward. It ultimately helped me build a better skill set for recruiting. Having worked in manufacturing — I'm far better at recruiting for these jobs."
Starting as a recruiter
Gabriel had another friend who, coincidentally, began working at one of Aerotek's regional recruiting centers in Phoenix, Arizona. His friend was an internal recruiter that was looking to hire ambitious employees to identify and qualify top contract employee candidates.
"I took a chance and flew out to Arizona to interview for the job. It was worth it — I was offered the entry-level position at Aerotek. Within weeks, Gabriel packed and moved to Arizona to start with Aerotek. He told us one of the reasons he made the leap was because of his relationship with Megan, and her recruiting team back in Illinois. "She treated me so well, right from the start, and I wanted to work with people who treated other people like that."
Moving up quickly
"I started with Aerotek as a 'sourcer.' In that role, I identified candidates and verified their skills against various job requirements, while also preparing them to speak with a recruiter," Gabriel explains.
I really enjoyed sourcing candidates and moved up pretty quickly to become a recruiter. I found out that this is one of those jobs you don't need previous experience as a recruiter to excel at. If you're naturally driven and curious about people and figuring out what they're good at and how to prepare them up for success, you can succeed in this business."
What success looks like
Gabriel is now a national recruiter. "I now recruit nationally across several divisions — scientific positions in California, commercial work in Illinois and customer service positions in the Northeastern U.S. If you have a hunger to learn and a curiosity about people, Aerotek is the place for you. There's a reason we're the number one staffing company — it's our culture, it's how we are trained, it's our environment. It's how we work, together. It's how we show up every day."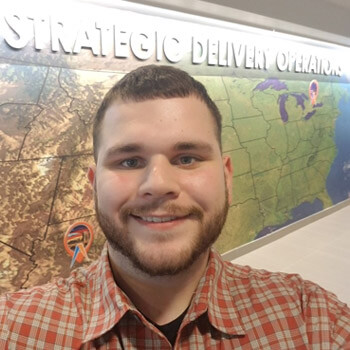 Gabriel at our national recruiting center in Phoenix, Arizona.
We asked Gabriel what his next career move was and without hesitation, he said "recruiting manager here at Aerotek — that's my next goal. You lead a team of recruiter's, qualifying jobs. You basically lead a group of recruiters to success."
Culture and character
The Aerotek culture was also a big draw for Megan when she joined the company.
"Honestly, I really didn't have a good idea about what sort of career was right for me. The people you spend the most time with know you the best, so I spoke with my family. That led to a conversation with my brother-in-law, who was working with Aerotek. I told him I thought I was good at sales, that I was competitive, that I was always seeking to develop, to grow. He didn't hesitate. 'Aerotek's culture would be a great fit for someone like you,' he told me. He was right."
"What I found here at Aerotek was a business culture that was grounded in the unique character of the people who work here. I've worked recruiting, and now as an account manager, across disciplines as diverse as commercial and professional skill sets. The common thread I've found is great character. The reason people come here and stay here is simple — it's all about character."
As Megan and Gabriel found, work culture and character are hard to describe. You just know it when you see it, when you feel it — and in their cases, when you work it, every day at a company like Aerotek.
If you have a similar hunger for learning how companies grow, and how to help them find the people with the type of character required to help them achieve business excellence, we invite you to search through our open jobs. Keep your resume updated, so our recruiters can find jobs relevant to your goals, skills and interests. And if you are ready to make the leap right to recruiting, check out our internal careers.