July Market Trends Report
The U.S. economy added 372,000 jobs in June, according to the U.S. Bureau of Labor Statistics (BLS) Employment Situation Summary. The latest BLS report shows continued recovery in industrial sectors including construction, manufacturing, transportation and warehousing.
Among industrial sectors, transportation and warehousing saw the largest job gains in June, adding 36,000 jobs on the month. Employment rose in warehousing and storage (+17,500) and air transportation (+7,500). Employment in transportation and warehousing is 759,000 above its February 2020 level.
Manufacturing employment also continued to trend up, as the industry added 29,000 jobs in June. Job gains, according to the BLS, were notable in manufacturing sectors including transportation equipment (+7,200), plastics and rubber products (+5,300) and food manufacturing (+4,800).
Job Openings in Industrial Sectors Decrease
At the same time, job openings fell sharply in May among industrial sectors.
The latest Job Opportunities and Labor Turnover Survey (JOLTS) report, which runs a month behind the BLS Employment Situation Summary, showed manufacturing job openings fell by 207,000 in May. There were also 20,000 less job openings in transportation, warehousing and utilities, and 6,000 less job openings in construction.
However, openings still outnumber the level of people looking for work by nearly double, the BLS reported. There were 11.3 million job openings across the economy in May. That's little changed from April, when there were 11.7 million job openings.
Strong Demand for Workers Remains
While the sudden dip in job openings may signal some relief, openings remain elevated across industrial sectors compared to pre-pandemic levels. The 809,000 job openings in the manufacturing sector, for example, are more than at any point prior to April 2021.
Workers are also continuing to quit jobs at a high rate. According to Indeed Hiring Lab, 3.2% of private sector workers voluntarily left their jobs in April 2022. This high volume of quitting reflects a strong demand for workers. Quits have also been concentrated in lower average-wage industry sectors, with the most elevated quit rates coming from sectors including manufacturing and construction.
Jobs Market Overview
3.6%
June's Overall Unemployment Rate
For the fourth month in a row, the number of unemployed persons was reported to be 3.6 percent. The number of unemployed persons was little changed at 5.9 million, slightly above the pre-pandemic level of 5.7 million.
372k
Jobs Added in June
Job growth in June was led by gains in transportation and warehousing.
62.2%
Labor Force Participation Rate (LFPR)
The labor force participation and the employment-population ratio (59.9%) were little changed over the month.
Industry Employment Trends
OVERALL ECONOMY
+372k
Monthly Job Change
(+4.3% YoY Difference)
| | | |
| --- | --- | --- |
| Industry | Monthly Job Change | YoY Difference |
| Manufacturing | +29k | +4.1% |
| Automotive | +2.1k | +7.0% |
| Warehouse & Storage | +17.5k | +11.1% |
| Architectural & Engineering | +6.9k | +6.1% |
| Construction | +13k | +4.0% |
| Consumer Services | +88k | +6.9% |
Source: Bureau of Labor Statistics, Employment Situation Summary
The Aerotek Take
"While reported job openings dropped this month, there is still a huge mismatch between the jobs that are open and the workers available to be hired. With inflation and other factors causing expenses to rise, it is critical for employers to be making smart decisions to build their workforce. That's where we come in."
Bill Ruff, Vice President of Strategic Sales
Spotlight: Construction
As inflation and a persistent labor shortage grip the industry, it's never been more important for construction employers to be making smart decisions.
Contractors across America have one eye on hiring, while their other eye is looking at the U.S. economy with worry.
The Wall Street Journal reported in June that construction projects are running short on labor just as $1 trillion in federal infrastructure money starts to kick in.
The latest data from the BLS shows the construction industry added 13,000 jobs in June. Subsectors experiencing the most growth in June included nonresidential specialty trades contractors adding 11,400 jobs, and heavy and civil engineering construction adding 4,500 jobs. Meanwhile, construction hires increased by 12,000 in May, according to the latest JOLTS report, which runs a month behind the BLS jobs report.
While job openings fell by 6,000 from May to June, the construction industry as a whole faced 434,000 job openings in June – 126,000 more than it faced at the same time last year.
Employers can continue to expect industry sales and employment to expand over the next six months, according to Associated Builders and Contractors (ABC) Chief Economist Anirban Basu. However, the nonresidential marketplace is "not as strong as it was expected to be."
According to an ABC estimation earlier this year, the construction industry was going to need to attract 650,000 additional workers on top of the normal pace of hiring in 2022 to meet the demand for labor. The ABC has not revised that number down, but its most recent reports caution that there are a number of considerations to make as employers consider the long term.
"Many factors are involved, including materials prices that have remained stubbornly elevated and construction skills shortages that have refused to dissipate," Basu said in a release on July 12.
Another factor to consider is labor prices. Average hourly earnings for production and nonsupervisory employees in construction rose to $32.25 in June, according to BLS, a 6% increase from a year ago.
Ken Simonson, chief economist for the Associated General Contractors of America, told Construction Dive that construction companies are used to paying 20% or more than the private sector as a whole. But as other industries have raised wages to combat a labor shortage of their own, Simonson said construction companies are "losing their lead" on those other employers.
"That is squeezing what contractors are offering as a premium to go out and work in 100-degree heat," Simonson told Construction Dive.
Construction: Average Hourly Earnings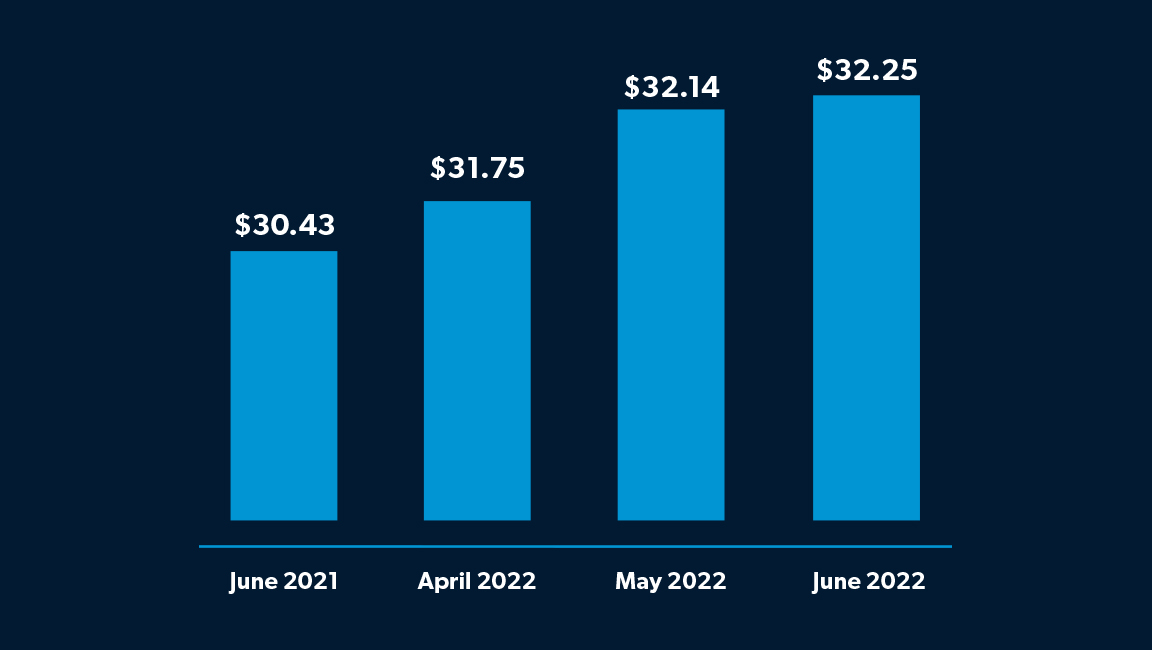 Source: U.S. Bureau of Labor Statistics, Average hourly earnings of production and nonsupervisory employees, seasonally adjusted & Employees on nonfarm payrolls by industry sector
Construction: Job Openings & Quits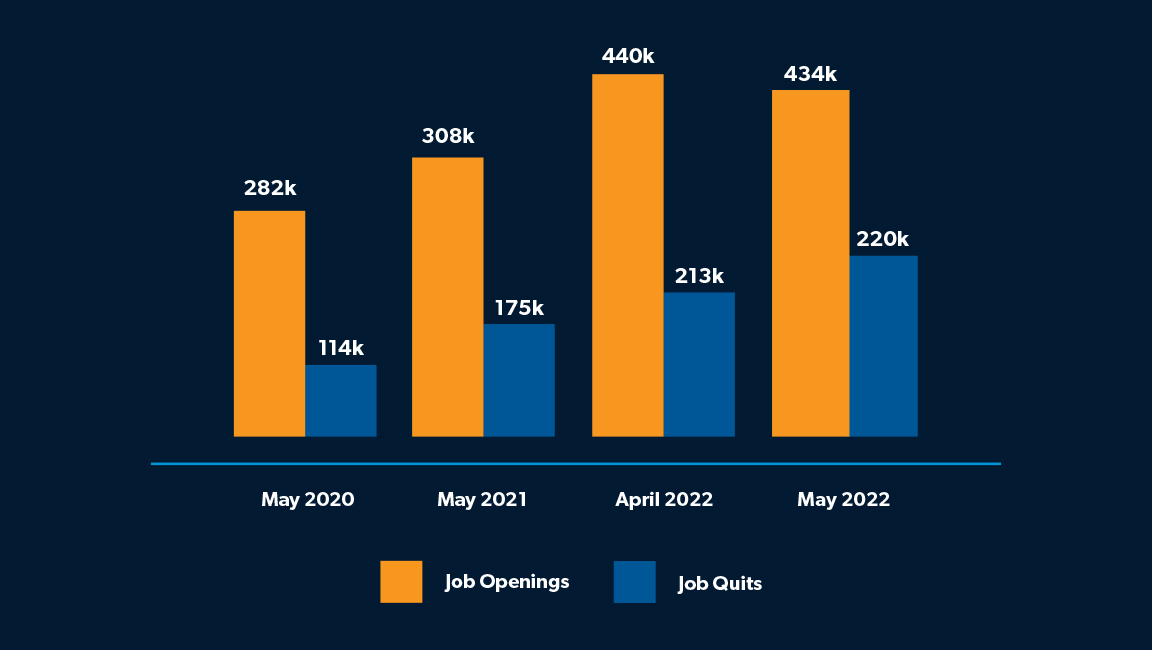 Source: U.S. Bureau of Labor Statistics, Job Openings and Labor Turnover Survey (JOLTS) (Job Openings and Quits)
Spotlight: The Aerotek Take
"The number one challenge we hear from our customers in construction is getting the talent/people to build their projects. We pride ourselves in our ability to read and understand the wide range of factors at play in today's labor market, and we urge our clients to be as proactive as possible with project planning specific to hiring and adding personnel."
Josh Miles, Business Development Executive