March 2023 Market Trends Report

The U.S. economy added 311,000 jobs in February while the unemployment rate moved down up to 3.6 percent, according to the U.S. Bureau of Labor Statistics (BLS) Employment Situation Summary.
Construction again edged up in February, while manufacturing and transportation and warehousing saw declines in employees on payrolls.
According to BLS, employment in construction grew (+24,000) thanks to gains across the board, most notably for residential specialty trade contractors (+11,200) and heavy and civil engineering construction (+7,7000).
While employment among durable goods manufacturers was stagnant, nondurable goods manufacturers (-4,000) reported a decline in employees on payrolls. The sharpest declines among nondurable goods manufactuers were reported by plastics and rubber products manufacturers (-4,700) and textile mills (-1,700).
Meanwhile, employment in transportation and warehousing (-21,500) lost nearly all of the gains it made in January. The sharpest declines were reported in truck transportation (-8,500) and in support activities for transportation (-4,000) -- a sector that includes aircraft mechanics and service technicians, along with laborers and freight, stock and material movers.
JOLTS Report shows job openings remain high across industrial sectors
The latest Job Opportunities and Labor Turnover Survey (JOLTS) report, which runs a month behind the BLS Employment Situation Summary, showed there were 11 million job openings on the last business day of December.
In January, job openings decreased construction (-240,000) and durable goods manufacturing (-43,000). The number of job openings increased in transportation, warehousing, and utilities (+94,000) and in nondurable goods manufacturing (+50,000).
Hires rise across industrial sectors; Quits and layoffs tick up
Employers continue to hire at an elevated pace. According to BLS, employers reported increased hires in January in manufacturing (+12,000), construction (+11,000), and transportation, warehousing and utilities (+13,000).
Quits - generally voluntary separations initiated by the employee, according to BLS – decreased across the U.S. economy in January. But that decline was not courtesy of industrial sectors. Quits increased month-over-month in construction (+23,000) and transportation, warehousing and utilities (+10,000). While quits decreased slightly in manufacturing (-3,000), quits remain elevated in the industry. While the number of people quitting their jobs in manufacturing hovered around 200,000 per month from 2017 through 2020, the sector has reported more than 245,000 quits in each of the last 27 months.
Layoffs and discharges also ticked up in most industrial sectors. Layoffs and discharges increased in construction (+6,000), manufacturing (+13,000) and transportation, warehousing & utilities (+16,000) in January. Layoffs data is still far from worrying, however.
"Even with this new data and the uptick in January, the layoff rate is just equal to its all-time low prior to the pandemic," according to Nick Bunker, Economic Research Director for North America at the Indeed Hiring Lab. "And the layoff rate for Construction, a sector under pressure from high mortgage rates, remains below its February 2020 level."
Jobs Market Overview: February 2023
3.6%
Overall Unemployment Rate
The unemployment rate ticked up to 3.6% from 3.4% the month before.
311k
Jobs Added
Job growth in February included growth in construction, but declines in manufacturing and transportation and warehousing.
62.5%
Labor Force Participation Rate
The labor force participation rate has shown little net change since early 2022.
Industry Employment Trends
OVERALL ECONOMY
+311k
Monthly Job Change
(+2.9% YoY Difference)
| | | |
| --- | --- | --- |
| Industry | Monthly Job Change | YoY Difference |
| Manufacturing | -4k | +2.6% |
| Automotive | +0.2k | +7.8% |
| Warehouse & Storage | -5.5k | +0.1% |
| Architectural & Engineering | +4.6k | +4.8% |
| Construction | +24k | +3.2% |
| Consumer Services | +154k | +3.3% |
Source: Bureau of Labor Statistics, Employment Situation Summary
The Aerotek Take
"While employer demand for talent isn't as strong as it was at its peak in recent years, there is no shortage of companies looking to hire. We continue to see strong demand, particularly in construction, as the first quarter comes to a close. As companies continue to battle for talent, we are committed to providing our clients with the insights that will provide the edge they need to win."
Bill Ruff, Vice President of Strategic Sales
Spotlight: Manufacturing
The manufacturing industry has been experiencing a slowdown. The Institute for Supply Management's manufacturing index indicates the sector has been in economic contraction since November. But February may have shown signs that skies could clear, or at least stabilize soon.
The ISM's manufacturing PMI edged up to 47.7 last month from 47.4 in January. While any score below 50 indicates contraction, the small rise was the first in six months. In August, the PMI was 52.9 percent. The group's New Orders Index also improved to 47 percent in February from 42.5 percent the month before.
"Overall, demand looks pretty good," Timothy R. Fiore, chair of ISM's Manufacturing Business Survey Committee, said on a conference call, according to
SME
. "I think we're on the road to recovery on the demand side."
Fiore said uncertainty remains concerning the Federal Reserve and how long it will continue to boost interest rates in an effort to reduce inflation.
ISM said in its December forecast that it expected the manufacturing economy would improve – but not until the second half of 2023.
While there is still uncertainty across the industry, it has not stopped companies from hiring. Manufacturers reported 417,000 hires in the month of January, according to the latest JOLTS Report. That marks 21 straight months with hires over 399,000.
When the industry does stabilize and companies look to grow, the labor issues that have plagued employers since the pandemic began – from a lack of skilled talent to a lack of talent in general – may only increase.
According to the U.S. Chamber of Commerce, durable goods manufacturing was among a handful of industries at the end of the year where there are more unfilled job openings than unemployed workers with experience in their respective industry.
"Even if every unemployed person with experience in the durable goods manufacturing industry were employed, the industry would fill roughly a third of the vacant jobs," according to the U.S. Chamber of Commerce.
In February, the unemployment rate for durable goods manufacturing had ticked all the way down to 2.6 percent. The number of unemployed people in durable goods manufacturing was down to just 268,000, while the number of job openings was at 476,000 in January 2023.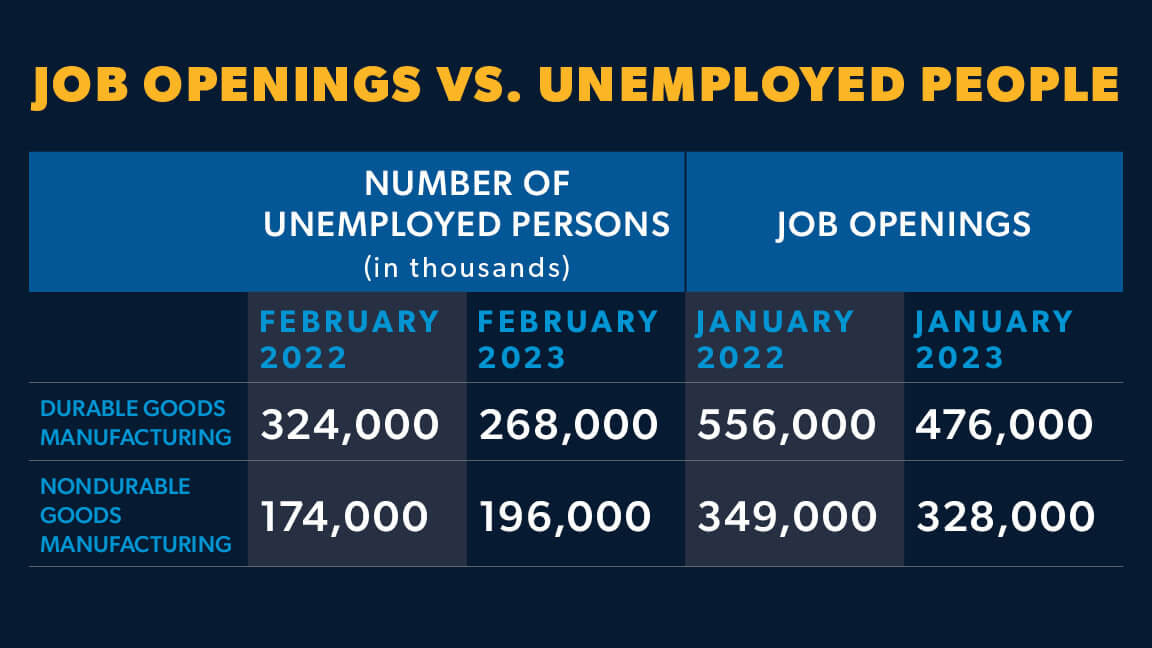 Source: U.S. Bureau of Labor Statistics, Job Openings and Labor Turnover Survey & Employment Situation Summary (Unemployed persons by industry and class of worker, not seasonally adjusted)
Spotlight: The Aerotek Take
"Manufacturing is in a unique position. Most Companies have changed their pay scale to remain competitive and we do not foresee many changes to pay rates like we have the past two years. The number of hires has far exceeded the number of layoffs and quits and the number of job openings are still much higher than applicants.

As the year progresses and the natural uptick of demand increases for these sectors, companies must continue to evolve to ensure they are able to keep up with need of having the right personnel. Increasing the speed of onboarding, having only relevant pre-boarding compliance, and ensuring a positive work-life balance and an environment that is clean, safe, and enjoyable will be the key factors in a company's ability to quickly gain the talent they need while minimizing voluntary quits.

We are working with our clients and sharing best practices to ensure they are hitting their production and productivity goals consistently. Aerotek has seen a huge increase in the number of hires each month as companies look to a contingent workforce to quickly supplement full-time staff, and seek to find speed and quality in hiring while lowering employment costs. Finding ways to quickly bring in personnel with the relevant experience to quickly learn the process is ultra-important right now."

Stanley Johnson, Director of Strategic Sales