March Market Trends Report

Beating expectations once again, the U.S. Bureau of Labor Statistics reported the U.S. economy added 678,000 jobs to payrolls in February, led by gains in leisure and hospitality, professional and business services, health care, and construction.
Across industrial verticals, construction led the way adding 60,000 jobs to payrolls in February. The manufacturing sector and warehousing & storage sectors also experienced growth, gaining 36,000 jobs and 10,700 jobs, respectively.
While the number of jobs on payrolls grew in February, the labor shortage remains in full effect. The U.S. Bureau of Labor Statistics' Job Opportunities and Labor Turnover Survey (JOLTS), which runs a month behind the department's nonfarm payroll report, showed there were 11.3 million job openings in January — the eighth month in a row job when openings exceeded 10 million. The report also updated its December data, raising the number of job openings in December to 11.4 million, an all-time high.
Meanwhile, there were 6.5 million gross hires in January and nearly 4.3 million Americans quit their jobs. Fewer people quit their jobs in January than the 4.4 million that quit in December, but January still marked the eighth consecutive month with more than 4 million quits.
While job creation has been strong, labor force participation still sits far below the pre-pandemic average. There were only 0.6 unemployed people per job opening in January, matching December's record low.
March Jobs Market Overview
3.8%
February's Overall Unemployment Rate
February's unemployment rate dropped to its lowest level since February 2020, before the COVID-19 pandemic
678k
Jobs Added in
February
Leisure and hospitality, professional and business services, health care, and construction were the key drivers of February's job growth
62.3%
Labor Force Participation Rate (LFPR)
While the participation rate is at its highest since the COVID-19 pandemic impacted the U.S. Economy, February's labor force remains well below the February 2020 level of 63.4%
Industry Employment Trends
OVERALL ECONOMY
+678k
Monthly Job Change
(+4.6% YoY Difference)
| | | |
| --- | --- | --- |
| Industry | Monthly Job Change | YoY Difference |
| Manufacturing | +36k | +3.2% |
| Automotive | -18k | +0.9% |
| Warehouse & Storage | +10.7k | +9.0% |
| Architectural & Engineering | +4.4k | +6.1% |
| Construction | +60k | +4.2% |
| Consumer Services | +224.5k | +9.1% |
Source: Bureau of Labor Statistics, Employment Situation Summary
The Aerotek Take
"We are continuing to hear from employers who are struggling to fill positions across industries. With low supply and high demand comes a choice, for employers and talent. Businesses across the country are more open to creating a more accommodating workplace and considering raises, but the rising cost of doing business is limiting the ability to be flexible.
The talent we work with are looking to work somewhere they are appreciated, and where they can grow. With nearly two open jobs for every jobless American, recruiting can be a toss-up. Having an edge in pay or an edge in benefits, such as professional development or educational opportunities to foster career growth, is often what it takes to tip the scales your way."
Bill Ruff, Vice President of Strategic Sales
Spotlight: Construction
The construction sector bounced back in February, gaining 60,000 jobs. That increase was highlighted by gains for specialty trade contractors including 24,000 added construction jobs for residential contractors and 20,000 added jobs for nonresidential contractors, according to the U.S. Bureau of Labor Statistics' February Jobs Report.
The AIA's Architecture Billings Index, an economic indicator for nonresidential construction project design work, has remained above 50 for the past 11 months. This is good news, because it indicates there will be a strong demand for the architectural and construction industries through at least September 2022.
However, the construction industry currently faces several challenges. Construction materials costs are up 16.9 percent year-over-year from January 2020 to January 2021, according to the U.S. Bureau of Labor Statistics' producer price index. Higher prices have been a trend for nearly a year, and it looks like they will persist in 2022.
Meanwhile, the construction industry faces a historical level of unfilled jobs. On average in 2021, 4.4 percent of construction jobs were unfilled, according to Marcum LLP's annual analysis of the Bureau of Labor Statistics' Job Openings and Labor Turnover Survey (JOLTS).
The Infrastructure Investment and Jobs Act passed in November is set to pump billions into the nation's infrastructure, and the construction industry stands to benefit greatly. The law creates grants that will fund the construction of infrastructure across the nation, and its benefits will only increase the need for talent.
According to a model developed by Associated Builders and Contractors, the construction industry will need to attract nearly 650,000 additional workers on top of the normal pace of hiring in 2022 to meet the demand for labor.
The labor shortage has already resulted in rising wages for contractors. Construction employment is just below its level in February 2020, when the COVID-19 pandemic began to affect the U.S. economy. However, from Feb. 2020 to Feb. 2022, hourly wages for production and nonsupervisory employees in the construction sector have risen from $29.18 per hour to $31.62 per hour.
While wage increases will help with retention, employees are more likely to stay loyal when they feel a sense of connection to their work. From Upskilling programs that empower employees with new skills to outreach and education, the most successful companies are going an extra mile to recruit and retain talent.
Construction: Average Hourly Earnings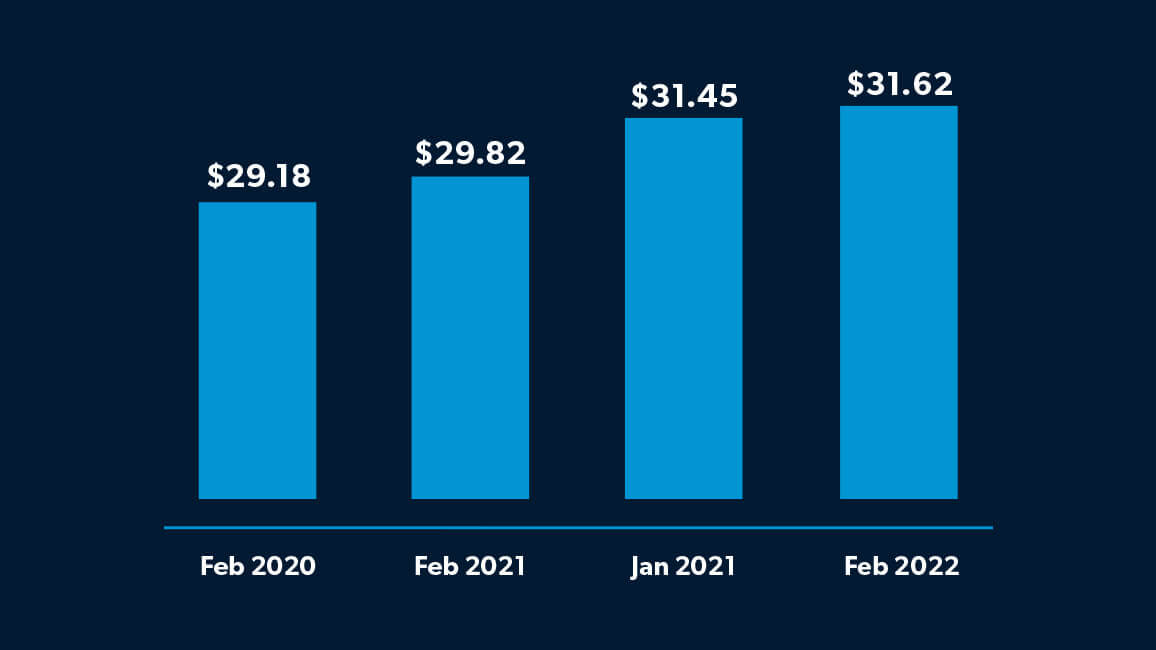 Source: U.S. Bureau of Labor Statistics, Average hourly earnings of production and nonsupervisory employees, construction, seasonally adjusted
Construction: Job Openings and Hires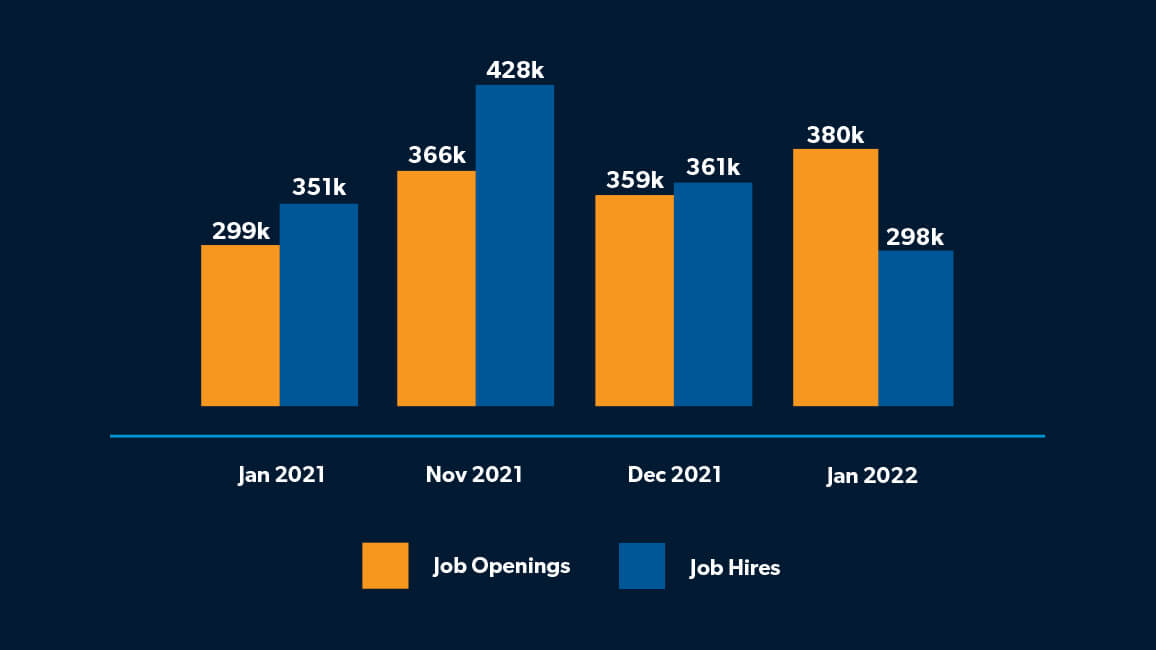 Source: U.S. Bureau of Labor Statistics, Job Openings and Labor Turnover Survey (JOLTS)
Spotlight: The Aerotek Take
"Companies that are able to overcome the ongoing labor shortage in 2022 will find themselves in a much better position to overcome the challenges of volatile supply chains and materials costs. For talent, there has never been a better time to enter the construction industry. The clients we partner with most successfully are very proactive when planning out their labor and field crew strategy for their upcoming projects.
Forward-thinking construction firms are not only meeting applicants with higher wages, but they are rethinking how they create a workplace where employees want to stay and grow in their careers. While pay is a major factor, talent is seeking job satisfaction and companies that are willing to invest – and these should be major parts of your strategy to build and retain your workforce."
Josh Miles, Aerotek Business Development Executive