While demand for labor continues to be at an all-time high and the U.S. economy continues to add jobs, some fear momentum could be stifled by a combination of factors including inflation and the threat of another COVID-19 outbreak.
The U.S. economy added 428,000 jobs in April, according to the U.S. Bureau of Labor Statistics (BLS) Employment Situation Summary. While total nonfarm employment is down by 1.2 million from its pre-pandemic level in February 2020, the latest BLS report shows continued recovery in industrial sectors including manufacturing, transportation and warehousing.
Manufacturing added 55,000 jobs in April, including 14,000 jobs in transportation equipment, 7,000 jobs in machinery, 8,000 jobs in food manufacturing and 6,000 jobs in plastics and rubber products. Employment in transportation and warehousing rose by 52,000 in April, with the BLS reporting gains in warehousing and storage (+17,000), couriers and messengers (+15,000), truck transportation (+13,000), and air transportation (+4,000).
Hourly wages ticked up 10 cents across all sectors in April and are up 5.5 percent year over year. Higher wages may be required to fill an all-time number of job openings, according to the BLS's Job Opportunities and Labor Turnover Survey (JOLTS). The JOLTS report, which runs a month behind the BLS Employment Situation Summary, showed there were 11.5 million job openings in March — the highest level in the history of the BLS reporting series, which began in December 2000.
The latest JOLTS report showed job openings fell slightly in industries including transportation, warehousing, and utilities (-69,000). However, job openings increased in manufacturing (+75,000) and construction (+13,000).
In March, the number of hires across the country was little changed at 6.7 million. Hires fell by 10,000 in construction and 20,000 in transportation, warehousing and utilities. Meanwhile, manufacturing recorded 8,000 more hires in March over February.
As employers look to add employees to payrolls, they are battling rising prices. The producer-price index, which measures the supply conditions throughout the economy, rose by 1.4% in March.
According to the NFIB's small business owner survey, inflation continues to be a problem for small businesses. The NFIB's April report showed that 32% of small business owners reporting it's their single most important problem in operating their business, the highest reading since the fourth quarter of 1980. Forty-seven percent of owners reported job openings that could not be filled, unchanged from March.
May Jobs Market Overview
3.6%
April's Overall Unemployment Rate
The number of unemployed persons was essentially unchanged at 5.9 million, leaving the unemployment rate just north of its pre-pandemic rate of 3.5 percent.
428k
Jobs Added in April
Job growth was widespread in April, led by gains in leisure and hospitality, in manufacturing, and in transportation and warehousing.
62.2%
Labor Force Participation Rate (LFPR)
The labor force participation rate decreased from 62.4% in March to 62.2% in April.
Industry Employment Trends
OVERALL ECONOMY
+428k
Monthly Job Change
(+4.6% YoY Difference)
| | | |
| --- | --- | --- |
| Industry | Monthly Job Change | YoY Difference |
| Manufacturing | +55k | +4.0% |
| Automotive | +6.1k | +7.3% |
| Warehouse & Storage | +16.8k | +10.6% |
| Architectural & Engineering | +4k | +5.7% |
| Construction | +2k | +3.2% |
| Consumer Services | +110k | +8.5% |
Source: Bureau of Labor Statistics, Employment Situation Summary
The Aerotek Take
"Employers are up against it right now. While most need help, it's hard to look for talent when the cost of gas, supplies and services continues to grow. It's even harder to pinpoint what to offer employees when instability has made the 'right wage' a fast-moving target. Our job is to ensure employers don't sacrifice on quality or spend needlessly to bring the right talent in. It is a difficult market to navigate, but it can be done."
Bill Ruff, Vice President of Strategic Sales
Spotlight: Aviation
The air transportation sector continues to see growth, and that is likely only to continue in coming months as COVID-19 protocols loosen and mask restrictions are lifted. According to Oliver Wyman's annual aviation maintenance, repair and overhaul (MRO) survey, titled "The Quest for Stability," the MRO sector spend will approach $80 billion 2022 and come close to matching pre-COVID levels in 2023.
More than half of Oliver Wyman's survey respondents reported that lack of labor is beginning to constrain growth. When asked about top disruptors for the MRO industry over the next five years, respondents said a shortage of maintenance technicians was the top disruptor. Respondents ranked labor/material cost management as second among top disruptors.
More than 52 percent of respondents to the Aeronautical Repair Station Association's 2021 member survey of 116 U.S. companies representing 196 FAA-certificated repair stations cited "difficulty finding/retaining technical talent" as a major strategic threat to their companies, second only to "overall economic uncertainty" (65.4 percent).
Boeing's Pilot and Technician Outlook 2021-2040 estimates that 626,000 new maintenance technicians will be needed to fly and maintain the global commercial fleet over the next 20 years.
The Aviation Technical Education Council (ATEC) in its 2021 Pipeline Report made clear the labor issues facing the aviation industry:
In 2020, the FAA issued 30 percent fewer new mechanic certificates than it did the previous year. While the writers of the report determined they would treat the 2020 numbers as an "anomaly," it noted "the long-term effect of the pandemic on the mechanic pipeline is yet to be seen."
Long-term forecasts continue to project a shortage in qualified mechanics. "Even assuming pre-pandemic certification rates return, the mechanic population is expected to increase 13 percent over the next 20 years.
Ultimately, projections show the industry will fall 12,000 mechanics short of meeting commercial aviation needs in 2041.
Economic uncertainty has many employers looking to contain costs as the price of gas and economic instability sends prices rising. Sixty-five to 70 percent of the operators who responded to Oliver Wyman's survey said that the use of greentime engines and alternative parts/repairs will be important cost levers going forward. Nearly 90% of survey respondents indicated that sustainability is a priority for MRO-related activities.
It will be a priority for employers to ensure new and old employees know how to maintain and operate new technologies that are rolled out to lower costs. Many are in turn considering how Upskilling programs can equip their existing workforce with new skills. Education and outreach is critical to creating an environment where employees feel valued and want to stay for the long-term.
Transportation & Warehousing: Average Hourly Earnings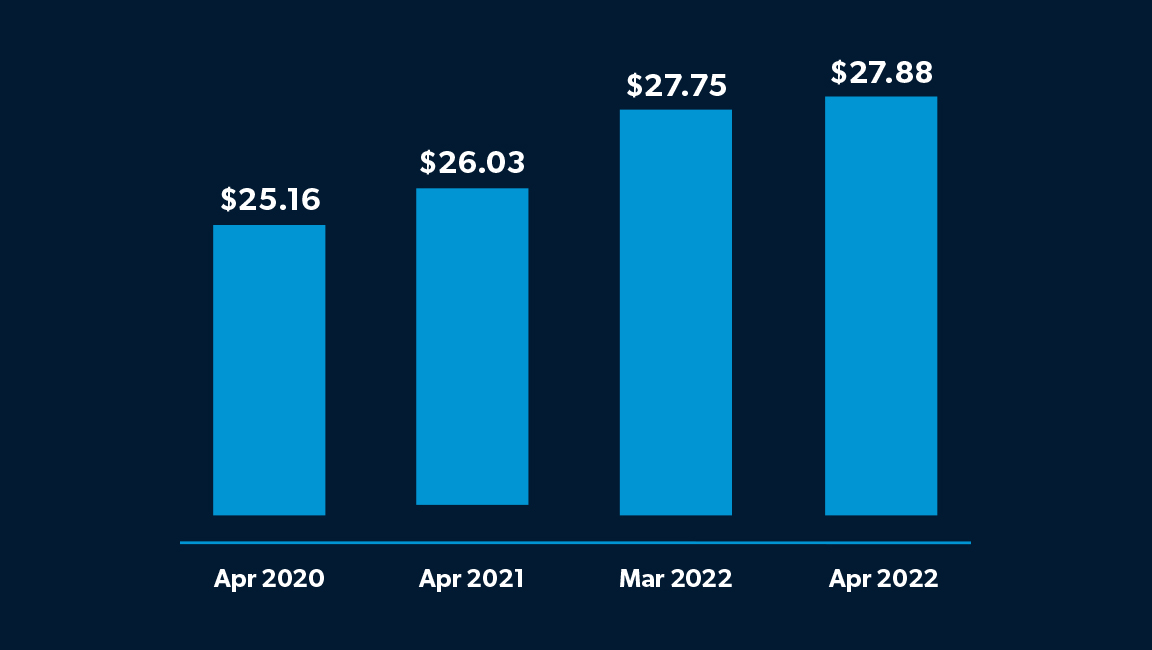 Source: U.S. Bureau of Labor Statistics, Average hourly earnings of production and nonsupervisory employees, transportation and warehousing, seasonally adjusted
Transportation, warehousing, and utilities: Job Openings and Hires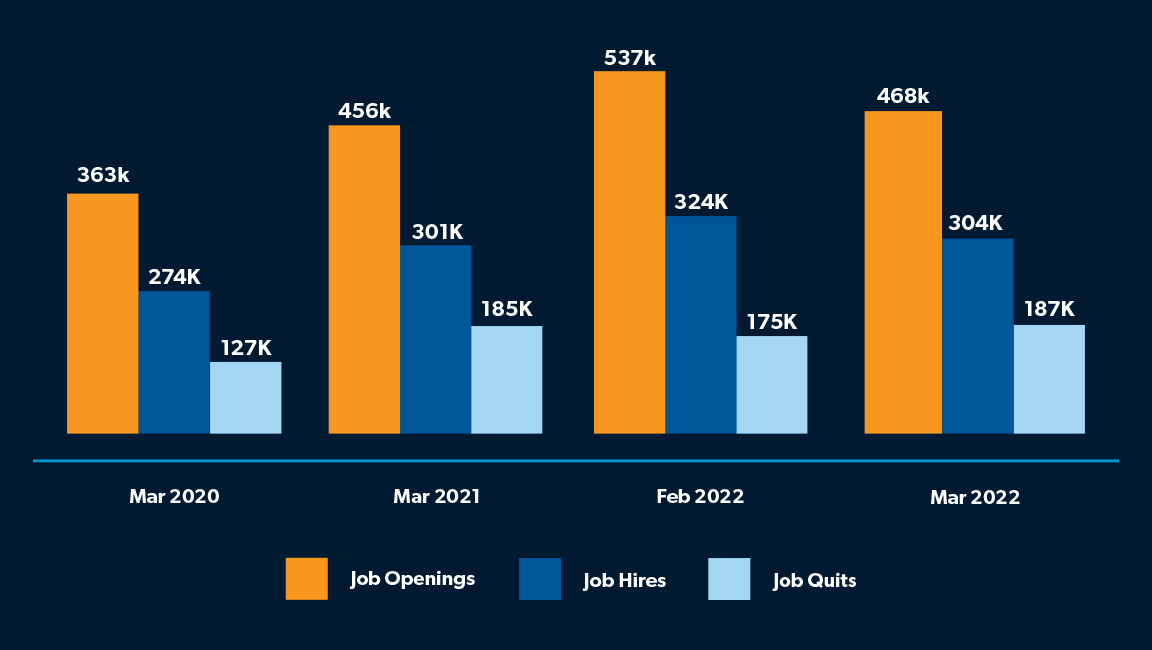 Source: U.S. Bureau of Labor Statistics, Job Openings and Labor Turnover Survey (JOLTS)
Spotlight: The Aerotek Take
"Aviation technicians and mechanics possess very transferable skills and can work in practically any industry. As a result, we're continuing to see workers in these skill sets get poached from companies in other industries. Employers in aviation must recognize that to compete in this market, they need to offer competitive shifts, pay, and a working environment that provides room for advancement. All of those factors must become a priority before your employees start asking themselves if their deal is a good one. To recruit and retain in today's market, a partner like Aerotek can help you ask the questions and start coming up with answers before it's too late."
Tony Sanzone, Aerotek Director of Strategic Sales