November 2022 Market Trends Report

The U.S. economy added 261,000 jobs in October while the unemployment rate rose to 3.7 percent, according to the U.S. Bureau of Labor Statistics (BLS) Employment Situation Summary. Monthly job growth has averaged 407,000 in 2022, compared with 562,000 per month in 2021.
Manufacturing continued to lead the way among industrial sectors that are continuing to thrive. The durable goods manufacturing sector saw employees on payrolls grow by 23,000 in October, while nondurable goods manufacturers added 9,000 employees to payrolls.
Transportation and warehousing showed a gain of 8,200 jobs, according to the latest BLS report. That figure includes gains for truck transportation (+13,200) and air transportation (+4,200), and one big negative for warehousing and storage (-20,000).
Job openings increase in latest JOLTS report
The latest Job Opportunities and Labor Turnover Survey (JOLTS) report, which runs a month behind the BLS Employment Situation Summary, showed there were 10.7 million job openings on the last business day of September.
Job openings spiked significantly in transportation, warehousing and utilities (+111,000) and grew in construction (+36,000). for the second consecutive month.
Meanwhile, openings fell in manufacturing (-40,000) for the second consecutive month. While there were actually 1,000 more job openings posted by nondurable goods manufacturers, durable goods manufacturers posted 41,000 fewer jobs in the month of September, according to BLS.
Hires fall and quits stay the same
As job openings spiked across the market, hires ticked down in most industrial sectors. Construction (+11,000) was the lone sector to post hiring gains in September. Manufacturing (-78,000) and transportation, warehousing and utilities (-26,000) both showed fewer hires in September.
In September, the number and rate of total separations across the U.S. economy decreased to 5.7 million, according to BLS. That included drops in construction (-56,000), manufacturing (-39,000) and transportation, warehousing and utilities (-35,000).
While fewer workers in industrial sectors quit in September, workers in those sectors are continuing to quit at elevated rates when compared to other sectors like Leisure and Hospitality and Retail Trade, according to Indeed Hiring Lab.
Jobs Market Overview
3.7%
October's Overall Unemployment Rate
The unemployment rate has been in the narrow range of 3.5% to 3.7% since March.
261k
Jobs Added in October
Job growth in October included spikes in industrial sectors including manufacturing, truck and air transportation.
62.2%
October's Labor Force Participation Rate
The labor force participation rate remains 1.2 percent below its February 2020 level, prior to the COVID-19 pandemic.
Industry Employment Trends
OVERALL ECONOMY
+261k
Monthly Job Change
(+3.6% YoY Difference)
| | | |
| --- | --- | --- |
| Industry | Monthly Job Change | YoY Difference |
| Manufacturing | +32k | +3.7% |
| Automotive | +4.8k | +4.9% |
| Warehouse & Storage | -20k | +5.8% |
| Architectural & Engineering | +6.8k | +5.9% |
| Construction | +1k | +3.6% |
| Consumer Services | +43k | +4.8% |
Source: Bureau of Labor Statistics, Employment Situation Summary
The Aerotek Take
"The labor market remains strong and the competition for labor remains fierce across industrial sectors. As job openings continue to remain at elevated levels and hires aren't keeping up, we are continuing to help our clients make sure that the talent they find is talent they can keep. One of the biggest risks to employers in a competitive labor market is turnover, and it's more important than ever to consider the needs you must address for the present and for the future."
Bill Ruff, Vice President of Strategic Sales
Spotlight: Warehousing & Storage
Warehousing and storage businesses recorded a drop in employment in October, losing 20,000 jobs. That may be due in part to ongoing cutbacks by logistics companies, which have been canceling plans for new fulfillment centers after a period of fast expansion.
The Logistics Manager Index had a reading of 57.5 in October. The October LMI report shows Distribution & Warehouse employment levels are going through a "right-sizing" after running at all-time high levels. Distribution and warehouse companies report high inventory levels and associated storage costs.
The boom in online shopping that caused the country's fulfillment and distribution centers continued to staff up may be slowing down. But today, warehouses employ 1.8 million Americans — up 37% since January 2020 and up 183% from January 2010. Additionally, hourly wages have risen 8.5% year-over-year for production and nonsupervisory employees in warehousing, according to the Bureau of Labor Statistics.
Growth in the industry is keeping the labor market active, and employees – much like they are across industrial sectors – are becoming hard to retain.
Total separations, a number that includes both voluntary and involuntary terminations, remain elevated. The BLS JOLTS Report, which is a month behind the BLS Jobs Report, showed 322,000 total separations in September in the transportation, warehousing, and utilities sector. Prior to the March 2020, at the start of the pandemic, the sector had never recorded more than 300 total separations.
Many companies are adding amenities in an effort to lure workers to their warehouse facilities. The Wall Street Journal reported that retailer REI is building a distribution center in Lebanon, Tennessee, with skylights, a fitness center, bike storage, and a trail outside for employees to use during breaks.
While amenities are nice, many workers prefer opportunities to learn and grow in their career.
Earlier this year, The Food Institute reported that Beekeeper.io surveyed more than 1,800 frontline workers, in part, to identify their key pain points. The results showed frontline workers prefer new learning opportunities, operational efficiencies and encouraging feedback from managers more than they prefer physical improvements to their working environment.
By the Numbers: Warehousing & Storage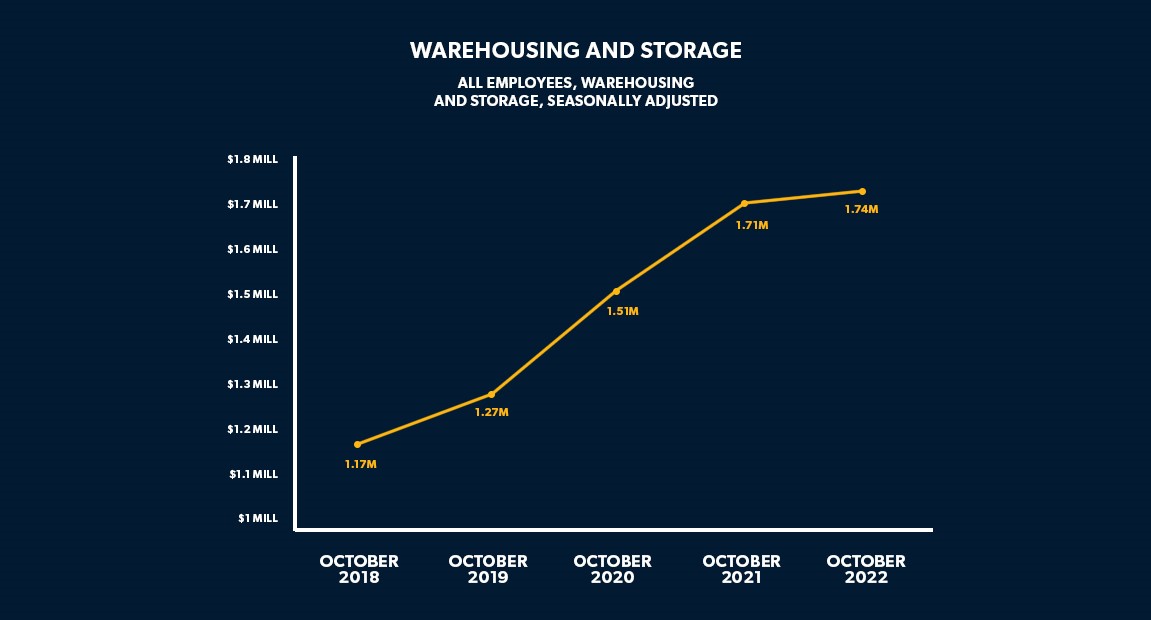 Source: U.S. Bureau of Labor Statistics, All employees, Warehousing and storage, Seasonally Adjusted
Spotlight: The Aerotek Take
"Today, workers are looking for employers to offer more than competitive pay. Job-seekers across skillsets are looking for learning & development opportunities and flexibility, too. It's important for companies to understand that the job-seekers have options and to attract and retain, it's going to take more than your conventional job listing."
Tim Callaghan, Director of Strategic Sales