October 2022 Market Trends Report

The U.S. economy added 263,000 jobs in September while the unemployment rate stabilized at 3.5 percent, according to the U.S. Bureau of Labor Statistics (BLS) Employment Situation Summary. Among industrial sectors that continued to see gains in terms of employees on payrolls were manufacturing and construction, while some sectors such as transportation and warehousing saw slight decreases.
The manufacturing sector saw the largest job gains among industrial sectors in September, adding 22,000 jobs. Job gains occurred in motor vehicles and parts (+8,000), fabricated metal products (+6,000), and electrical equipment and appliances (+3,000).
Construction employment also continued to trend up, adding 16,000 jobs in September. In construction, specialty trades contractors added 18,000 jobs while nonresidential building contractors added 2,400 jobs
Transportation and warehousing saw a loss of 7,900 jobs, according to the latest BLS report. The loss was due in part largely to losses specific to truck transportation (-11,400) and transit and ground passenger transportation (-3,600). Other sectors within the transportation and warehousing category saw gains in September, including air transportation (+2,800).
Job openings remain above pre-pandemic levels across major industrial sectors
The latest Job Opportunities and Labor Turnover Survey (JOLTS) report, which runs a month behind the BLS Employment Situation Summary, showed there were 10.1 million job openings on the last business day of August.
Job openings spiked in construction (+54,000) while falling in some industrial sectors including in manufacturing (-115,000) and transportation, warehousing, and utilities (-44,000).
While openings fell in manufacturing, where there were 115,000 less openings in August than there were in July, openings remain high for the sector. The manufacturing sector spent a decade never recording more than 530 job openings until February 2021. Since that time, it hasn't recorded less than 750 openings in a month.
Employers struggling to recruit, develop and retain
Workers continue to quit at high rates, according to the BLS. Quits are generally voluntary separations initiated by the employee, and remained above 4 million for the 15th consecutive month. Quit levels saw spikes in transportation, warehousing and utilities (+8,000 over July) and construction (+19,000 over July), while quits in manufacturing were down slightly (-2,000).
Employers everywhere are struggling to find skilled labor and there is palpable worry about the future, with leaders as high up as the U.S. Department of Transportation expressing concern. The DOT's inspector general Eric Soskin described the government's hiring challenges to Transportation Secretary Pete Buttigieg on Oct. 5 in a report concerning the DOT's needs as it looks to implement $660 billion in funding for programs authorized under the Infrastructure Investment and Jobs Act.
Sotskin's report was representative of many discussions happening across boardrooms. The report reads: "the Department faces challenges in recruiting, developing, and retaining the necessary workforce to timely, effectively, and efficiently implement IIJA programs… Competition among employers for skilled workers has intensified across the United States, and recent Governmentwide surveys have indicated that most DOT employees would consider taking different positions if offered more workplace flexibilities or remote options elsewhere."
Jobs Market Overview
3.5%
September's Overall Unemployment Rate
The unemployment rate edged down to 3.5%.
263k
Jobs Added in September
Job growth in September included spikes in industrial sectors including manufacturing and construction.
62.3%
Labor Force Participation Rate (LFPR)
The labor force participation rate remains 1.1 percent below its February 2020 level, prior to the COVID-19 pandemic.
Industry Employment Trends
OVERALL ECONOMY
+263k
Monthly Job Change
(+3.9% YoY Difference)
| | | |
| --- | --- | --- |
| Industry | Monthly Job Change | YoY Difference |
| Manufacturing | +22k | +3.8% |
| Automotive | +8.9k | +4.9% |
| Warehouse & Storage | -0.2k | +5.8% |
| Architectural & Engineering | -0.8k | +5.4% |
| Construction | +19k | +3.9% |
| Consumer Services | +89k | +5.4% |
Source: Bureau of Labor Statistics, Employment Situation Summary
The Aerotek Take
"Businesses large and small are grappling with the question of how they position themselves as attractive employers. While making your business appear attractive to job-seekers is a priority, it shouldn't be the only one as you want to be sure the people you are recruiting are fit for a long-term future with your business. The labor shortage isn't going away any time soon, and a partner like Aerotek can help you deliberate these important questions and develop an action plan to move forward."

Bill Ruff, Vice President of Strategic Sales
Spotlight: Manufacturing
According to a recent story in The New York Times, U.S. factory jobs are booming again at a rate not seen since the 1970s. American manufacturers cut roughly 1.36 million jobs as Covid-19 shut down much of the economy across three months in 2020. As of August this year, manufacturers had added back about 1.43 million jobs, a net gain of 67,000 workers above prepandemic levels.
Still, the labor shortage is significantly impacting manufacturing, according to the U.S. Chamber of Commerce. The business organization last month said the labor shortage is most pronounced in retail (where roughly 70 percent of job openings remain unfilled) and manufacturing (about 55 percent), and even if every unemployed person with experience in the durable goods manufacturing industry were employed, the industry would only fill 65% of the vacant jobs.
The National Association of Manufacturers released its Manufacturers' Outlook Survey for the third quarter of 2022 in September, and while supply chain disruptions were the primary business challenge that manufacturers pointed to (78.3%) – attracting and retaining a quality workforce was not far behind (76.1%).
In order to hire new workers and retain existing ones, many companies have taken the step of increasing pay. From January 2012 to March 2020, the average hourly earnings of production and nonsupervisory employees in manufacturing moved from $19.02 per hour to $21.61 per hour – a 13.6 percent increase in eight years. From March 2020 to September 2022, the average hourly earnings of those same workers has spiked from $21.61 per hour to $25.22 per hour – a 16.7 percent increase.
But many employers are realizing that hiking paychecks is only part of a labor solution that will stand the test of time.
According to Indeed's Hiring Lab, more employers are highlighting their benefits in job postings. Indeed postings in low-wage sectors that are more likely to be in person have seen the fastest growth in advertisement of health insurance, paid time off, and retirement plans over the past three years, Indeed reported in late September. In production & manufacturing, the number of employers advertising health insurance jumped from 35.7 percent in August 2019 to 55 percent in August 2022. In production & manufacturing, employers advertising retirement plans in job listings jumped from 27.7 percent in August 2019 to 46.1 percent in August 2022.
John Robertson, Vice President of the Food and Beverage Vertical for Life Cycle Engineering's Reliability Consulting Group, wrote in Food Industry Executive that employers should focus on improving the culture and experience for employees at their businesses.
"Engaging, connecting, and coordinating your workforce with the right training, processes, tools, and technology is the foundation of a smart culture that paves the way for a smart operation – one that can outperform the competition in plant performance, regulatory compliance, innovation and retention," Robertson wrote.
By the Numbers: Manufacturing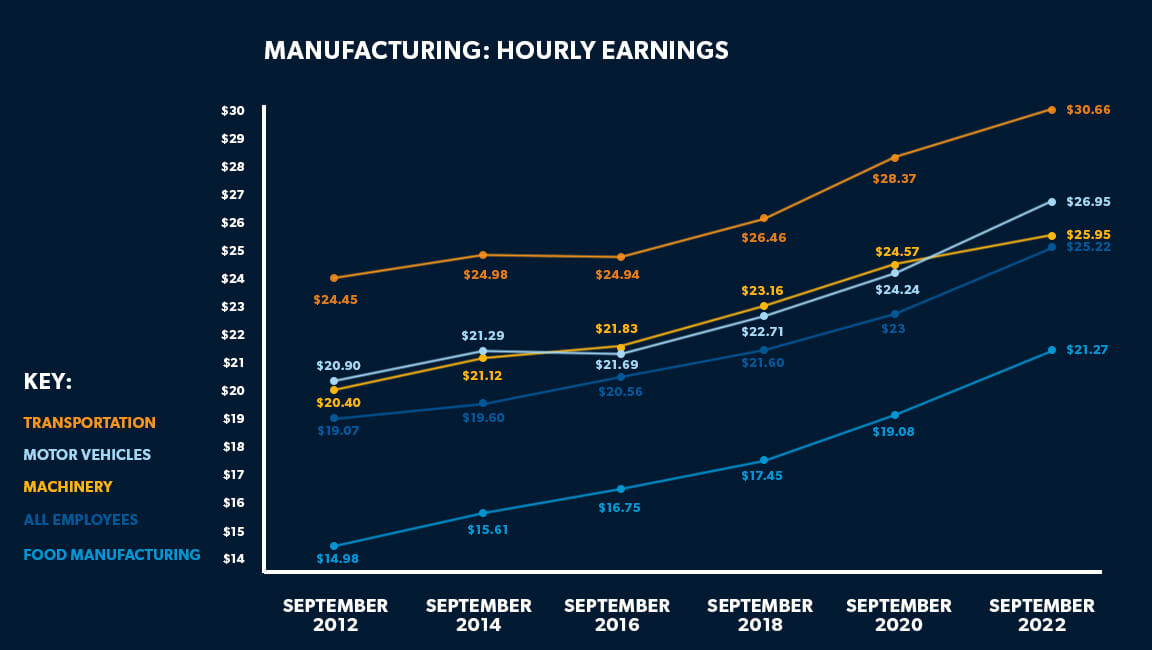 Source: U.S. Bureau of Labor Statistics, Average hourly earnings of production and nonsupervisory employees on private nonfarm payrolls, manufacturing, seasonally adjusted
Spotlight: The Aerotek Take
"It's not just pay that's going to stabilize your workforce and set you up for the long-term. Employers need to start considering a multifaceted approach that includes speeding up onboarding, updating onboarding compliance policies for Dug Testing and Background checks to start driving a more diverse workforce, and reconsidering dated attendance policies. Complex problems demand complex solutions, but we can help simplify how you get from where you are now to where you need to be to set your business up for success."

Stanley Johnson, Director of Strategic Sales