Aerotek's David Jordan Named to SIA's 2023 Diversity, Equity & Inclusion Influencers List for Second Consecutive Year
Aerotek's Director of Diversity, Equity and Inclusion David Jordan earns DE&I Influencers honors for second consecutive year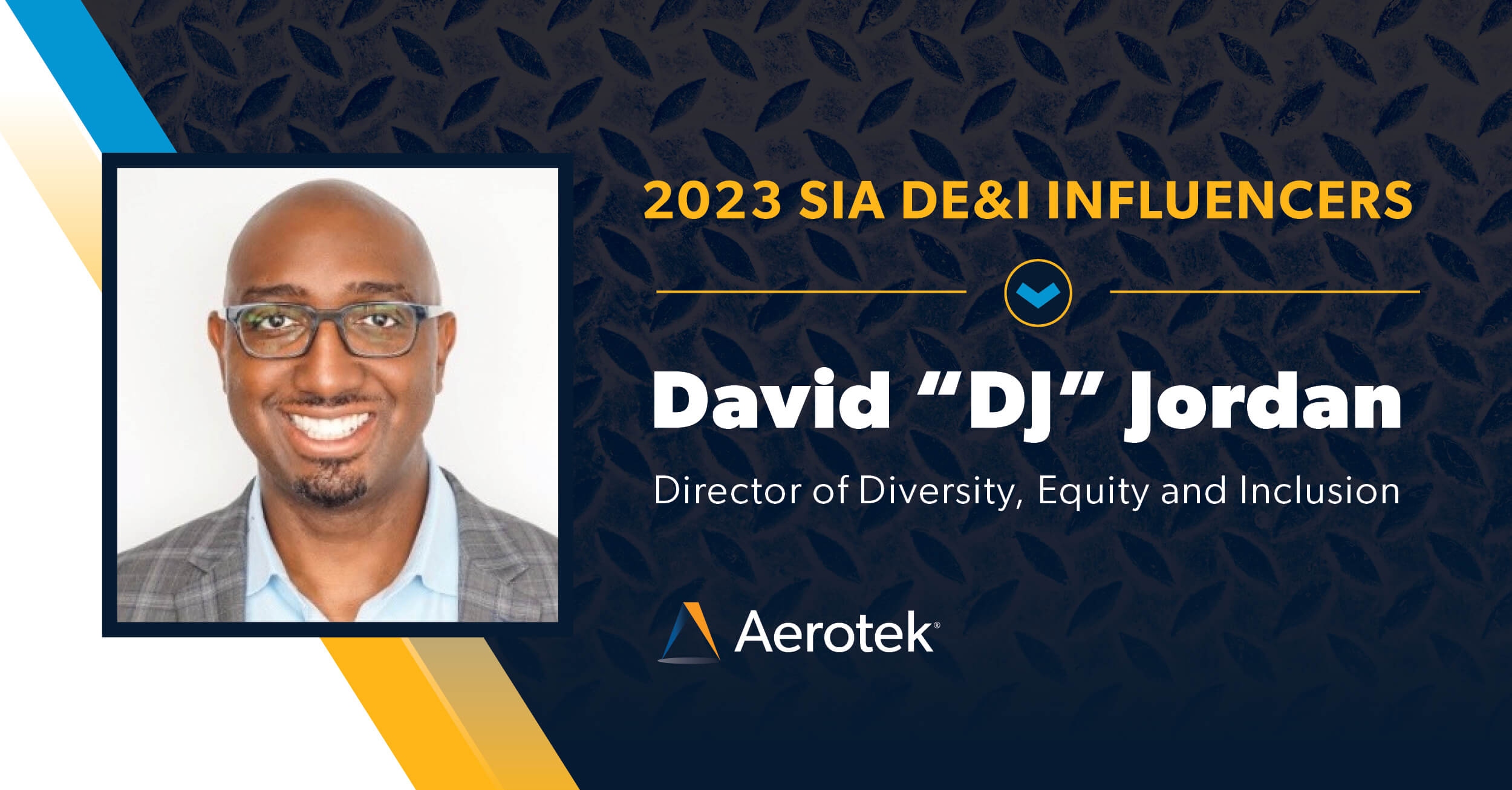 Aerotek, a leading talent solutions provider specializing in placing light industrial and skilled trades talent in the manufacturing, logistics, construction, aviation and facility management industries, announced today for the second consecutive year that its Director of Diversity, Equity & Inclusion (DE&I), David "DJ" Jordan, has been named to Staffing Industry Analysts' (SIA) 2023 DE&I Influencers List. This annual award recognizes business leaders from the workforce solutions ecosystem who are paving the way to create opportunities for historically excluded communities.
DJ is one of just 49 honorees named to the list, which SIA describes as a testament to those who have been advocating for others and having the tough conversations on DE&I.
"We are incredibly proud to have DJ as a leader within our organization and are honored that his exceptional work is being recognized by SIA for a second consecutive year," said Tom Kelly, President of Aerotek. "DJ has shown unwavering dedication to outreach and advocacy for underrepresented communities and has been instrumental in fostering meaningful conversations and driving positive change for Aerotek's employees and contractors alike."

Throughout the last year, DJ has led the company in mobilizing its DE&I strategy to partner with a number of organizations and support events, including the National Diversity Council's Black Men in Leadership and Native American Heritage Summits, the Woman of Color STEM Conference in Detroit, and Special Olympics of Maryland's Polar Bear Plunge.

Under DJ's leadership, Aerotek logged its first full year of holding required DE&I Foundation Training for all employees and new hires. DJ's overseen the continued growth of four internal employee resource groups (ERGs). More than 600 Aerotek employees now belong to these groups, including P.R.I.D.E., Women at Aerotek, Black Indigenous People of Color, and Veterans and First Responders. And he has overseen the growth of a Courageous Conversations program led by Aerotek and its sister companies Aston Carter and Actalent. Courageous Conversations is an enterprise-wide call that brings employees together to discuss sensitive issues across diversity, equity and inclusion.
Since DJ began his career with Aerotek in 1995, he has played a critical role in recruiting and developing a diverse workforce within Aerotek and for the clients Aerotek serves through his roles in recruiting and sales, training and his current role as Director of Diversity, Equity & Inclusion.
To learn more about the SIA DE&I Influencers List and view the full list, visit SIA's website.
To learn more about Aerotek, please visit Aerotek.com.
About Aerotek
Our People Are Everything™. For more than 35 years, Aerotek® Inc. has built a reputation for providing the highest-quality staffing and workforce management solutions. With deep expertise in the manufacturing, logistics, construction, aviation and facility management industries, we partner with more than 13,000 clients and 200,000 light industrial and skilled trades contract employees every year. Our people-focused approach connects quality talent with meaningful work and continuous opportunities. Headquartered in Hanover, Md., Aerotek operates a unified network of over 250 offices across North America. Aerotek is an operating company within Allegis Group, a global leader in talent solutions. To learn more, visit: Aerotek.com | 1-888-AEROTEK.
About SIA and the DE&I Influencers List

Staffing Industry Analysts (SIA) is the global advisor on staffing and workforce solutions. Our proprietary research covers all categories of employed and non-employed work including temporary staffing, independent contracting and other types of contingent labor. We also provide training and accreditation with our unique Certified Contingent Workforce Professional (CCWP) program.
The DE&I Influencers list was developed to recognize people who are having the tough conversations to improve DE&I in the workforce solutions ecosystem. You and your cohorts have been selected due to your ongoing efforts, whether it's been within the ecosystem educating your companies and driving change or as advisors to corporate leadership or on a broader scale that still influenced the world of work.