3 Ways Employers Can Tackle Preventable Turnover

In a job market where employees have a lot of power, companies today are experiencing some of the highest quit rates in recent memory. In July 2019, 3.58 million people quit their jobs, the largest percentage in 17 years. The business cost of employee turnover is high and at these levels, it can take a toll both on company profits and organizational performance.
Losing a valued employee inevitably causes work disruption, but there are ripple effects that can multiply the challenges. Handling the increased workload that results from short-staffing can make other employees dissatisfied, even to the point that they too look for other jobs. A constant flow of new hires may disproportionately impact the top performers who are often taken away from their core job responsibilities to conduct onboarding and training. Most damaging is the loss of someone with deep expertise and institutional knowledge, which is even more detrimental if that person goes to a competitor.
Although that seems discouraging, a recent Work Institute survey found that 77% of the reasons employees quit could have been prevented by the employer: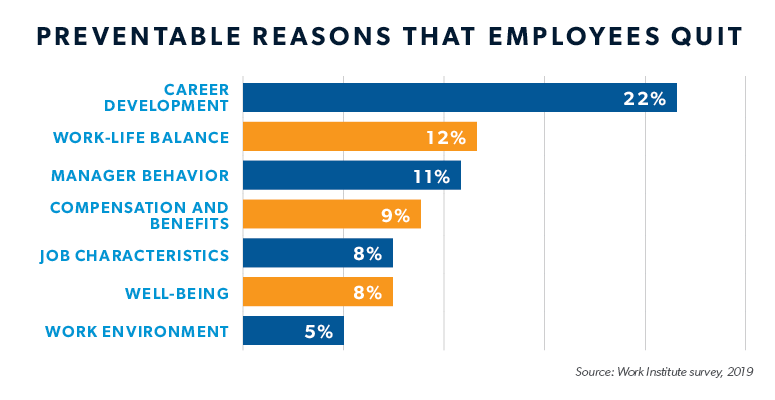 What do workers care about most?
When asked about preventable reasons they quit, 22% of workers surveyed cited career development and 8% blamed job characteristics.
Those findings echo what Dan Stiles, Aerotek director of strategic accounts, is seeing in the marketplace. "If employees are doing meaningful work in a job they enjoy — that pays competitively and represents a good fit for their skills and experience — they want to make sure they have growth opportunities to ensure it is worthwhile to stay with the company."
Once those requirements are satisfied, they want to know it's an environment that works for them in the long-term, throughout their career, he says, pointing to survey results indicating that work-life balance, manager behavior, well-being and work environment, were also important.
For employers looking to reduce turnover, Stiles offers these recommendations:
1. Create a high-performance expectation
There are proactive steps company leaders can take to retain their top performers, and it starts with communicating a shared vision, Stiles says. "Employees want to feel they're part of a team, working together to achieve goals that make a difference in the company. They want to do their best work, not only to succeed but also to support their coworkers and contribute to the overall vision." Managers should reinforce this with clear direction on what it takes to advance in the company and regular feedback on how each employee is performing against goals.
Keep an eye out for high-performing workers, Stiles recommends. "Are you helping them get outside their comfort zones so they can really excel and make a difference? Are you recognizing and rewarding them when they go above and beyond? Are you providing opportunities for them to interact with other departments and develop additional relationships that can help guide their learning and development?"
2. Prioritize good management
One in 10 workers noted that bad managers made them decide to quit a job. Companies should examine attrition data to determine whether poor management is a factor. Is one manager seeing higher attrition than others? Leadership should hold all managers accountable for turnover and address any issues appropriately. It could be time for a tough conversation on what's behind the numbers.
At the same time, having an exceptional manager can help retain the best workers and even attract employee referrals. "Companies should identify managers with the highest retention and find out what they're doing differently. Excellent managers are the leadership pipeline for the organization."
Stiles believes that building a culture of shared vision, engagement and teamwork will also provide a level of accountability that makes it difficult for negative management to thrive.
3. Be creative with workplace options
The survey results indicate that workers will leave a job if they're not satisfied with elements of the work environment. More and more workers are asking for work/life balance, while employers are increasingly recognizing the benefits of quality over quantity.
"Companies are becoming more creative about how the work gets done, with remote work and flex-time," Stiles says. "Whether that includes the ability to schedule doctor's appointments or wear jeans instead of a suit, offering these options demonstrates that an employer values its workers and trusts them to 'weave work into their lives' instead of following a rigid set of policies that may not make sense in the modern world."
Most employers recognize the value of reducing unnecessary turnover and developing an engaged workforce. The most effective way to lower attrition, Stiles says, is to consciously develop an agile and responsive culture that prioritizes employee satisfaction, rewards excellence and supports individual and group achievement. "The best organizations," Stiles says, "have the best culture."
Want to learn more about reducing attrition? Contact Aerotek now.