Voices from the 5-Generation Workplace

For the first time in history, one single workplace might employ up to five generations of workers:
Generation Z, ages 20 and under
Millennials, ages 21-33
Generation X, ages 34-53
Baby Boom, ages 54-70
Silent Generation, ages 71 and up
Now more than ever, it's important for employers to understand the motivations of each generation in order to bridge communication gaps and work styles to achieve a collaborative and productive work environment, all while making sure to manage to the individual rather than a generation. We contacted current or former Aerotek contract employees, one from each generation, and asked them the same questions to determine what they have in common and where their viewpoints differ.
Teamwork and continual learning were common motivators, as was a preference for open communication. However, differences cropped up when discussing what they valued most, whether it was flexibility, autonomy or stability. Here are their responses:
Generation Z
Harper Drake, college student and former pre-construction technician
What do you most value in a workplace?
What I'm looking for in a work environment is one where I can be continuously learning and applying what I've learned. I want the company leaders to be approachable, so I can learn more about the big picture. When I worked as a pre-construction technician last summer, the office had a lot of communication, so I could rely on more senior coworkers to clarify tasks or collaborate.
What motivates you?
I love to see progress in my work. When we were designing a prototype, for instance, I enjoyed not just seeing the physical progress of our project, but also the way the team dynamic evolved.
Any recommendations for employers?
When I had my interview, the managers at the company were really invested in explaining to me what the company was looking to do – to share their mission and goals. It made me feel valued.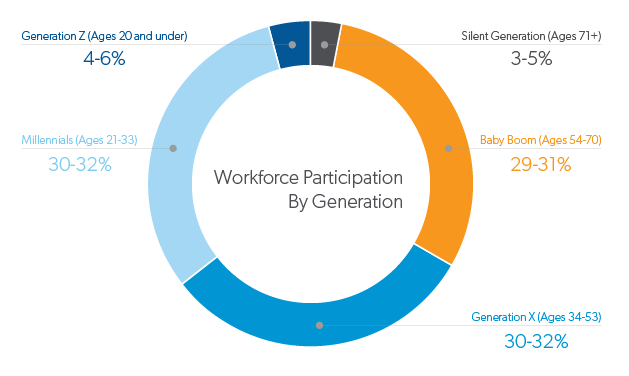 Millennial Generation
Mahlet Zinah, biomedical engineer
What do you most value in a workplace?
When I joined my current company, I was impressed by the diversity, not just in background but also in perspective and culture. It's also a really open-minded company… everyone is respected equally and it doesn't matter if someone is senior staff or entry-level.
What motivates you?
What I enjoy most about my workplace is the opportunity to collaborate, work hard, learn constantly and have potential for growth. I also appreciate flexibility – we have an option to work longer during the week and then a half day on Friday.
Like a lot of people in my generation, I really value work/life balance. I work really hard during the week so I can do fun things on the weekend, like visit my family.
Any recommendations for employers?
When my Aerotek recruiter showed me the job listing for my current company, it was very detailed and thorough. My interview was the same way, and that helped me know that I was making a good choice.
Generation X
Kevin Farley, senior embedded Linux development engineer
What do you most value in a workplace?
It's changed over time. When I was just entering the workforce, I wanted to work with good tech at a good salary and to solve interesting problems. I worked 70- to 80-hour workweeks for a couple of startups where I found all those things, but the companies weren't successful in the long run. Now I work to live, not live to work. And I want to work in a company that's built to last.
What motivates you?
My viewpoint has evolved over the years on this as well. At first I focused a lot of energy on moving up higher and higher in the organization. But then I realized that what I really enjoy is being an engineer, not being a manager. What I value is solving challenging problems, and having the autonomy to do that.
Any recommendations for employers?
If I walk into a job interview and I see a lot of unhappy employees, I know that's not a good working environment. And if the average tenure is very short, that's another red flag.
Baby Boom
Anthony Burrowes, environmental technician
What do you most value in a workplace?
I want to work in an environment that is compatible with my skills and values, such as being trustworthy and having good character. As soon as I interviewed at my current job, I knew that it would be a nice working environment – a "no stress express," as I call it. My coworkers are a wonderful set of people.
What motivates you?
What motivates me most is the opportunity to constantly learn new things. I would get bored doing the same thing every day, but learning is what makes me look forward to going to work every morning.
Any recommendations for employers?
At my current job, what I appreciate most is that they've given me all the tools I need to be successful.
Silent Generation
Cecil (Tony) Mumma, lab technician
What do you most value in a workplace?
Where I work now, we have open communication, which is very important to me. I also value that everyone is treated the same – no privileged characters or mean-spirited people, and that we receive constructive feedback when we need it. We're also offered access to resources, even when they're very expensive. And lastly, my employer always emphasizes the concept of internal as well as external customers, with internal customers usually being fellow employees.
What motivates you?
Having steady employment is very important to me personally. I would rather have a job I like with moderate pay than one I don't like much with very high pay. Teamwork is also very important, but I always like the opportunity to work independently when possible. I consider myself to be a responsible person and working without supervision requires a responsible person.
Any recommendations for employers?
I have worked almost 50 years including military service. When I compare how I felt about work when I was in my 20's and how I feel now, it's pretty much the same. Just as there are no little people or unimportant lives, there is no insignificant work!
Want to learn more about managing multiple generations in the workplace? Contact Aerotek now.