Clients and Contract Employees Name Aerotek Best of Staffing
For third consecutive year, Aerotek receives dual designation for its industry-leading customer satisfaction ratings.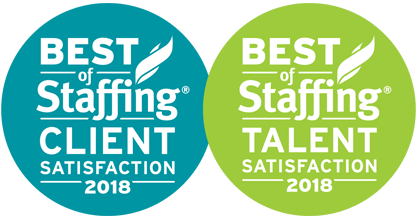 Aerotek® Inc., a leading provider of recruiting and staffing services, today announced it was recognized with Inavero's Best of Staffing® Client and Talent Awards. The awards highlight staffing agencies that have proven superior service quality based on evaluations from their customers. With industry-leading satisfaction ratings, Aerotek has been named Best of Staffing for the third consecutive year for both client and contract employees. Fewer than two percent of all staffing companies in North America achieve the Best of Staffing designation on either the client or contract employee side, and less than one percent win both designations.
More than 36,000 contract employees and nearly 9,000 clients shared their feedback on their level of satisfaction in working with Aerotek. Aerotek received satisfaction scores of nine or 10 out of 10 from 66 percent of its clients and 69 percent of its talent.
"Serving others is one of Aerotek's core values and an expectation of employees in every role throughout our company," said Aerotek President Todd Mohr. "It begins with understanding our clients' needs beyond the job description and getting to know every candidate far past their resume. For the third year in a row, we're proud to be recognized as we continue to strive to set a new bar for what it means to work for and with the staffing industry."
"With a tight labor market and growing economy, finding the right recruiting partners is critical to success," said Inavero's CEO Eric Gregg. "Best of Staffing winners provide consistently remarkable service to their clients and job candidates, and I couldn't be more proud to feature them on BestofStaffing.com."
To find out more information about Aerotek and the Best of Staffing awards, visit Aerotek.com.
About Aerotek
Our people are everything. For more than 30 years, Aerotek® Inc. has distinguished itself as a leader in recruiting, staffing and strategic outsourced solutions by having a deep understanding of the intersection of talent and business. As a strategic partner to more than 18,000 clients and 300,000 contract employees every year, Aerotek's people-focused approach yields competitive advantage for its clients and rewarding careers for its contract employees. Headquartered in Hanover, Md., Aerotek operates a network of over 250 non-franchised offices with more than 6,000 internal employees dedicated to serving our customers. Aerotek is an Allegis Group company, the global leader in talent solutions. To learn more, visit Aerotek.com.
About Inavero
Inavero administers more staffing agency client and talent satisfaction surveys than any other firm in the world. Inavero's team reports on over 1.2 million satisfaction surveys from staffing agency clients and talent each year and the company serves as the American Staffing Association's exclusive service quality partner.
About Inavero's Best of Staffing
Inavero's Best of Staffing® Award is the only award in the U.S. and Canada that recognizes staffing agencies that have proven superior service quality based completely on the ratings given to them by their clients and job candidates. Award winners are showcased by city and area of expertise on BestofStaffing.com – an online resource for hiring professionals and job seekers to find the best staffing agencies to call when they are in need.