Aerotek Unveils Summer 2023 Job-Seeker Survey: Economic Challenges and Labor Market Frustrations Continue to Plague Job Seekers
Workers report feeling frustrated by increasing inflation and lack of salary increases to compensate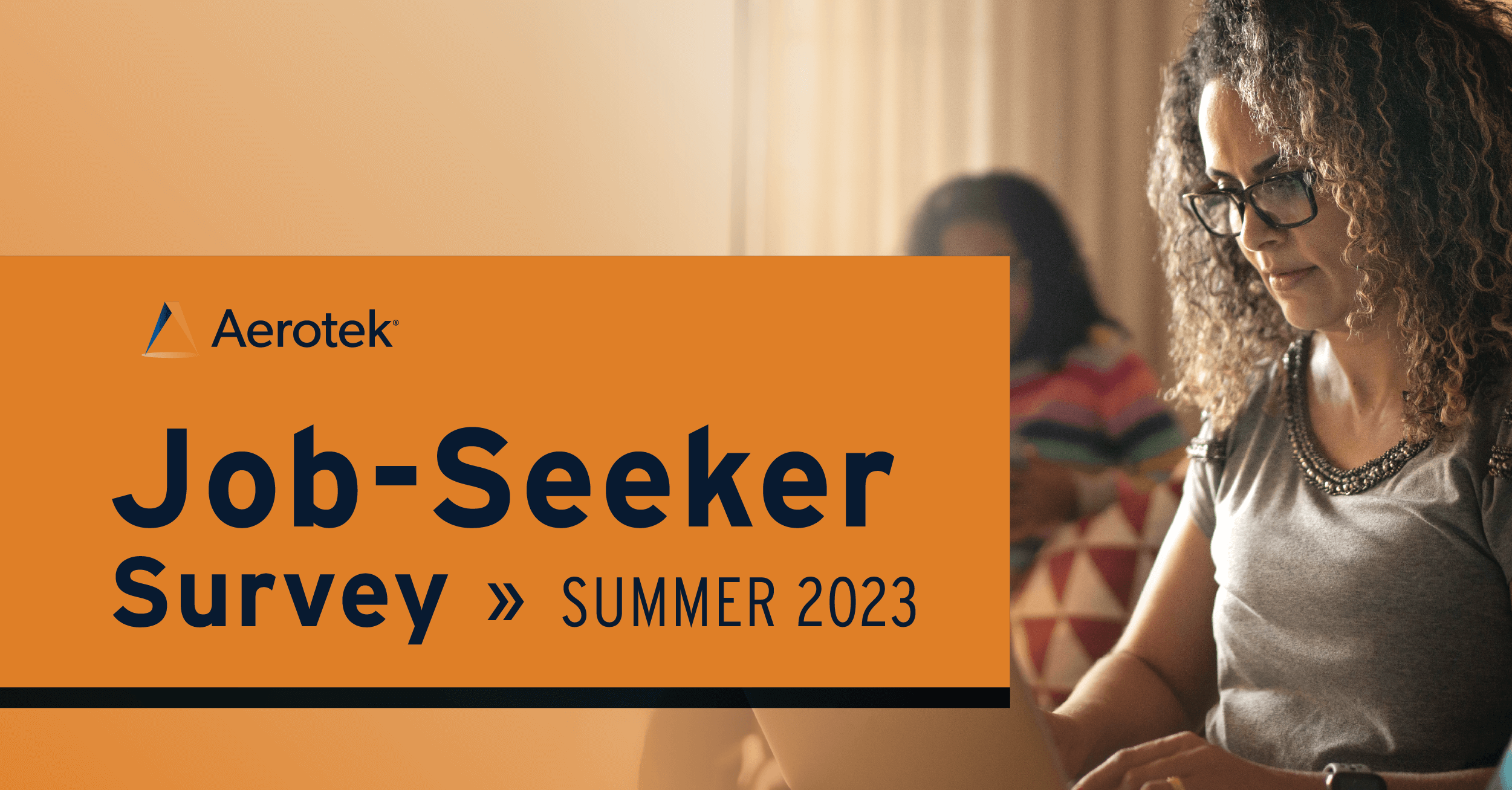 Hanover, Md. (September 26, 2023) - Aerotek, a trusted staffing and workforce management solutions partner, has released its Summer 2023 Job-Seeker Survey, which provides key insights from job seekers about current issues impacting the workforce. Findings show job seekers are facing concerning economic challenges and ongoing frustrations with the labor market.

The survey garnered responses from over 1,400 job seekers across a diverse array of industries, providing insights into the impact of economic factors on individuals' professional lives. A staggering 70.7% of respondents have not received a pay raise based on inflation in the past year, despite the rising cost of living. Adding to that concern, an overwhelming 77.3% of respondents have indicated that their overall financial situation has worsened or stayed the same since 2022.
Top 5 important motivators when deciding to accept a new job
Motivator | Percent of those surveyed who viewed the motivator as important
| | |
| --- | --- |
| Pay | 86.4% |
| Job Security | 83.7% |
| A Positive and Supportive Company Culture | 83.2% |
| Potential For Career Advancement | 77.7% |
| The Work is Interesting or Challenging | 60.9% |
Based on Aerotek's survey findings, "Job Security" is increasingly an important factor job seekers are considering when deciding to accept a new job. The share of job seekers who chose job security as the most important motivator when deciding to accept a new job rose to 18%. This is up from 14.3% in Aerotek's spring survey and 15.3% in its Q4 2022 survey.
Job Seekers Remain Hopeful Despite Market Worries
Compared to respondents of Aerotek's Spring Job-Seeker Survey, job seekers reporting full-time employment decreased from 59% to 48%, while the share reporting to have been laid off in the last three months grew from 3.2% to 6.1%. These findings emphasize the evolving dynamics of the employment landscape, in which 53.8% of job seekers stated they view the economy and/or job market to be the most significant barrier or challenge in their current job search.

Still, a majority of job seekers — 62.7% — say they remain hopeful that they will find a job that matches their goals and skills in the next three months. And when they have work, they enjoy the work. When asked to describe their feelings towards their current or most recent jobs, 65.4% of respondents say they enjoyed the work and the employer.
For more detailed insights and analysis, view the report here. To learn more about Aerotek, please visit Aerotek.com.

About the Research
Aerotek's Summer Job-Seeker Survey was conducted as an independent online survey. 1,437 job seekers were asked about their career ambitions and employer preferences. Respondents were located in the U.S. and completed the survey between August 4 and August 22, 2023. The survey targeted job seekers who were applying for work in calendar year 2023 and seeking jobs in the sectors Aerotek serves, including manufacturing, robotics and automation, facilities and maintenance, distribution and logistics, construction and other industries.

About Aerotek
Our People Are Everything™. For more than 40 years, Aerotek® Inc. has built a reputation for providing the highest-quality staffing and workforce management solutions. With deep expertise in the manufacturing, logistics, construction, aviation and facility management industries, we partner with more than 13,000 clients and 200,000 light industrial and skilled trades contract employees every year. Our people-focused approach connects quality talent with meaningful work and continuous opportunities. Headquartered in Hanover, Md., Aerotek operates a unified network of over 250 offices across North America. Aerotek is an operating company within Allegis Group, a global leader in talent solutions. To learn more, visit: Aerotek.com | 1-888-AEROTEK.